Chris
Daynes
-
Chief
Operations
Officer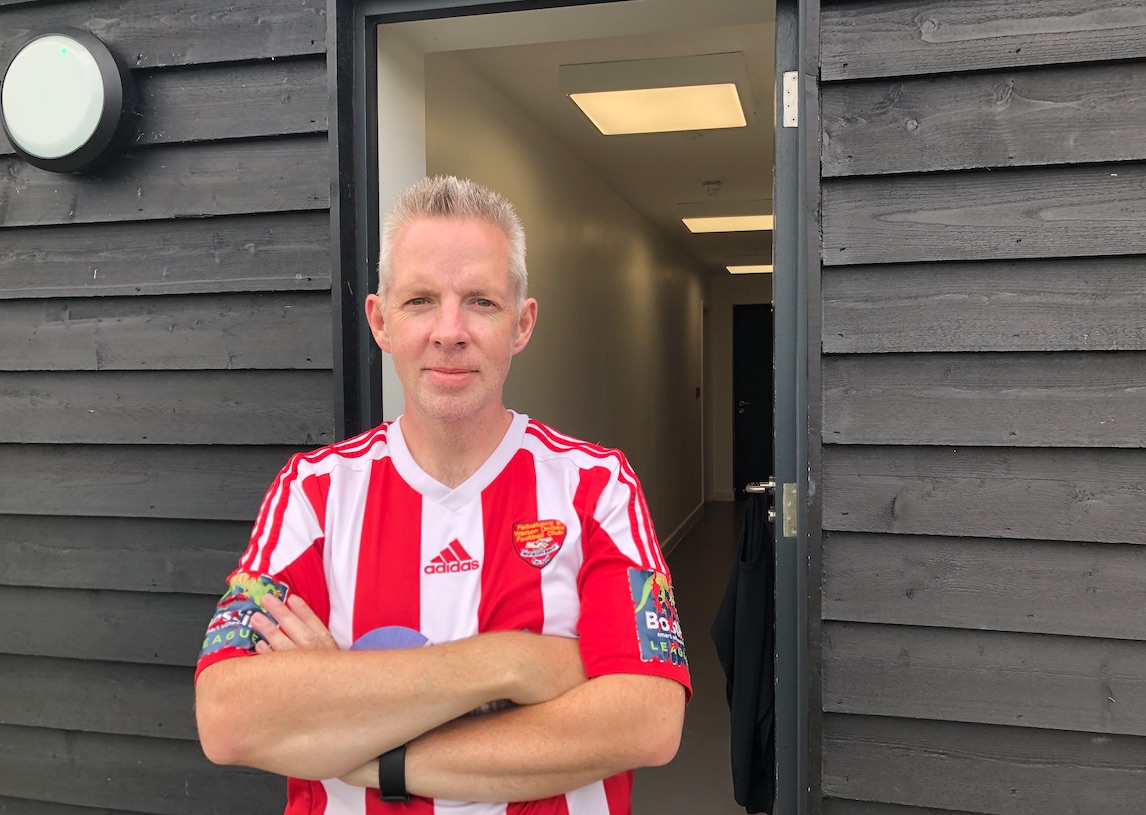 You may or may not be aware of the fact that Chris Daynes, our Chief Operations Officer, is about to go into hospital this week to undergo some extremely important medical treatment. 
Chris has Crohn's disease which is very debilitating, to put it mildly, and he is having Stem Cell Replacement Treatment. He will be away from the club throughout the Autumn period, in hospital in London for much of that time and will hopefully be back on the scene around Christmas time. 
Quite where our football club would be had Chris not got involved all those years ago is anyone's guess. Apart from overseeing the new clubhouse build, he has built up the annual fireworks event and too many other events to mention over the years, all bringing in vital funds to Felixstowe & Walton United FC. Just one indicator of the effort Chris has put in to the club is the remarkable 92 grounds in 92 hours fundraising event he did together with his brother Stuart in 2016. As Stuart says himself, "No easy task if fully fit, let alone in his medical condition! We raised around £4,000 for the club and are already planning a repeat challenge next Spring. This will depend on his condition of course."
Reprinted below is the article sent to The East Anglian Daily Times this week. Before you read it, may I on behalf of everyone at the club wish Chris the very best and a speedy recovery. Thank you Chris Daynes!
We often read about people behind the scenes at non-league football clubs and the important work they do. At Felixstowe & Walton there are many people who give to the club but none more so than Chief Operations Officer Chris Daynes, who is about to go into St Bart's hospital in London this week for vital stem cell replacement treatment for the debilitating Crohn's disease he's suffered from for more than thirty years. Hopefully this will re-set his immune system but, even if successful, his treatment will last for around four months and possibly longer.
To have carried out the work Chris has done since joining the committee fifteen years ago is extremely impressive. To have worked the way he has whilst dealing with Crohn's disease is simply remarkable. In his world there's no such thing as a five-day working week. Neither is a workday restricted to anything like a simple eight hours.
Chris has always been on top of, and normally the instigator of, the crucial fundraising that the Seasiders , like all local teams, constantly need. In particular, he led the team which put together the plans, fundraised, then oversaw the building and opening of the impressive facilities that have now transformed the club into what it is today.
Chris's support for the club goes back to when he first watched The Seasiders together with twin brother Stuart as a ten year old. The two brothers would sit in the old wooden stand in amongst a crowd of perhaps just 70 people. How times have changed. The two ten year olds would talk, even then, about what they could do to improve things at the ground and how in the future they could turn Felixstowe into a big non-league club.
As mentioned above, every club has its dedicated back room people but Chris fully deserves to be up there with the best. Everybody at the club wishes Chris well, hopes he makes a full recovery and looks forward to seeing his face back at The Goldstar Ground as soon as possible.