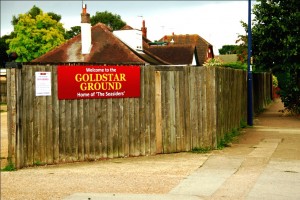 The main football club is located at The Goldstar Ground and is situated in Dellwood Avenue, Felixstowe.  
The Postcode is IP11 9HT
We are easy to find as there is just the one road into the town.
Approaching from the west (unless coming by boat) you are travelling due east on the A14 over the Orwell Bridge.
Travelling from the south you are going due north on the A12 which converges with the A14 at the Copdock Roundabout, Ipswich, where you turn right on to the A14 and head east, crossing the Orwell Bridge.
Travelling from the north, you are going due south on the A12, passing Woodbridge and the landmark Martlesham BT tower on your left.
The A12 (south) and A14 converge at the Seven Hills roundabout and travelling from the north the second exit from the roundabout takes you up on to the A14 approx six miles from the town.
From this point (All roads lead to Rome) the 'Water Tower' in Trimley is a significant landmark as you approach the set of lights at the 'Dock Spur' roundabout, keep to the left hand lane and cross the roundabout taking the first exit, in effect this is 'straight on!'
You are now entering Felixstowe along Candlett Road, although a two lane highway, at the next roundabout the road filters into a marked approach, go straight across the roundabout, the road rises slightly as you approach the third roundabout (approx 250 metres).
At this roundabout there are four exits, to the Grove medical centre immediately on your left, Links Avenue, Colneis Road and the fourth exit tree lined Beatrice Avenue, take this exit and approx 250 metres on the left, turn into Dellwood Avenue.
The Goldstar Ground is approx. 100 metres on the left, there is limited parking inside the ground but ample on street parking adjacent to the ground in Dellwood Avenue.
We would request that anyone parking on the road respect our neighbours privacy and their right of way to gain access to their property.
IMPORTANT - Visiting junior clubs should always check match instructions as not all junior matches are played at The Goldstar Ground.