Season
Ticket
Prices
2019/20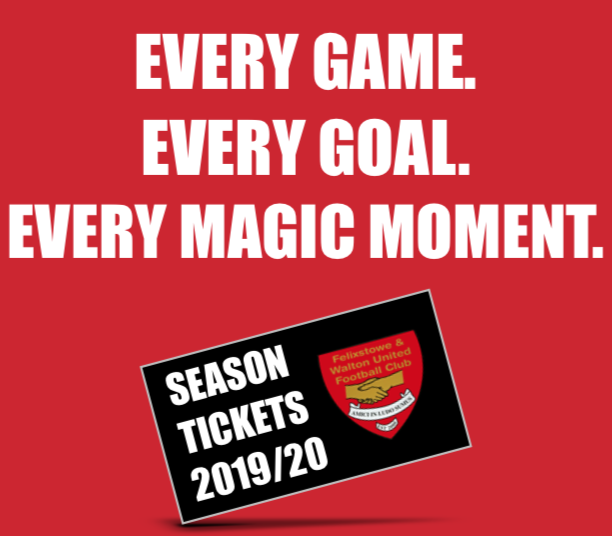 2019/20 Season Tickets & Matchday Prices
For the 2019/20 season, there will be just one type of season ticket available for the First Team (Last year we offered a 2nd option to include Reserve matches at an additional cost), but this ticket will now also entitle the holder to FREE admission to Reserve Team matches in the Thurlow Nunn First Division, particularly benefitting those supporters who do not travel away with the First Team.
All season tickets will still include annual membership of Felixstowe & Walton United Fc, worth £10 and free entry to Ipswich Town Women FC home games played at the Goldstar Ground.
The 'Early Bird' offer price has now ended, but the club has aimed to keep the increase to an absolute minimum, keeping prices amongst the lowest in the Bostik League, together with additional benefits, whilst providing the club with firm financial foundations to continue its sustainable growth across all areas on and off the pitch.
Season Ticket prices work out at just £7.89/£5.26 per match, a saving of £21 for Adults and £14 for Concessions compared to normal Matchday prices (see below).... PLUS of course the additional savings on FREE Reserves/ITWFC  matches and complimentary Club Membership.
SEASON TICKET PRICES 
Includes all First Team home Bostik League games, annual membership of the football club, free entry to all home Reserve league games and free entry to all Ipswich Town Women FC home league games played at the Goldstar Ground. 
Adults £150
Concessions (65 & Over) £100
You can secure your ticket in the following ways-
-Applications can be made at the clubhouse during advertised opening hours. 
-Or forms can be emailed on request by contacting This email address is being protected from spambots. You need JavaScript enabled to view it. or downloading the form here . These can then be dropped at the club during opening times or left in the postbox by the main entrance.
Matchday Admission 2019/20
First Team
Adults £9 

Concessions (65 & Over) £6

Under 16's (accompanied) FREE.
Reserve Team
Adults £5

Concessions (65 & Over) £3

Under 16's (accompanied) FREE