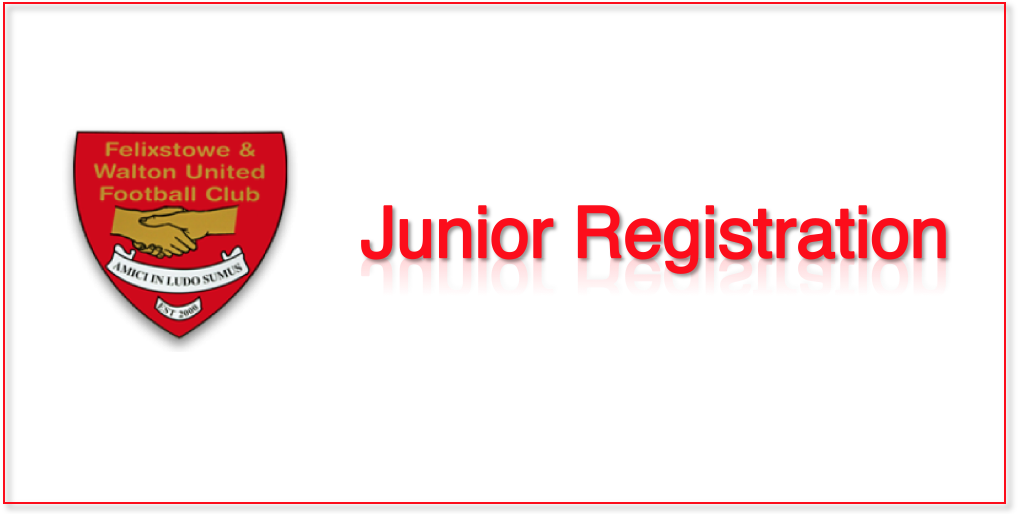 🔴 Registration for the Junior Section 2022/23 season is now OPEN  ⚪️
Welcome to Felixstowe & Walton Utd Youth Section Registration. Please use the correct link for your required age group team and please choose the correct team – 'Reds' or 'Whites'.
🔴⚪️ As a club and Youth section, we are always conscious about pricing for the season. We have always tried to give good value and remained very competitive amongst the Suffolk grassroots football community. 
We have a very exciting project in the making at the club named 'Dellwood Park' on the youth pitch side, which will see the cricket leave Dellwood & a new full-size 3G pitch installed alongside three remaining grass pitches, which all the youth team age groups will have full use of. We have made a small increase in the fees this season and that increase will go directly into the fundraising pot as a contribution from the Youth Section members. 🔴⚪️
🔴 Also new for this season every player signed on will receive a youth membership season ticket that will allow entry into all league games for the senior 1st team U23s U18s & ITFC Ladies ⚪️ 
NEW PLAYERS
Please do not automatically sign up and register players before speaking to the relevant age group head coach to confirm availability. All details of such coaches can be found on the website HERE.
Felixstowe and Walton United Football Club is a Charter Standard Community Club providing football facilities for both girls and boys from 5 to 18 years old. The Club fully adopts the FA Respect Campaign and their Anti-bullying policy.
PRICES
Prices for 2022/23 season September to April:
U6: £20
U7: £30
U8: £90
U9-U12: £110
U13-U16: £120
U9-U16 Girls: £90
Registration
Click on the relevant link below for your child's age group to register:
2022/23 U6 Startup Group – Felixstowe and Walton Utd FC – Register


2022/23 U7 – Felixstowe and Walton Utd FC – Register


2022/23 U8 – Felixstowe and Walton Utd FC – Register


2022/23 U9-U12 – Felixstowe and Walton Utd FC – Register


2022/23 U13-U16 – Felixstowe and Walton Utd FC – Register

2022/23 U9-U16 Girls – Felixstowe and Walton Utd FC – Register
Registration provided by: