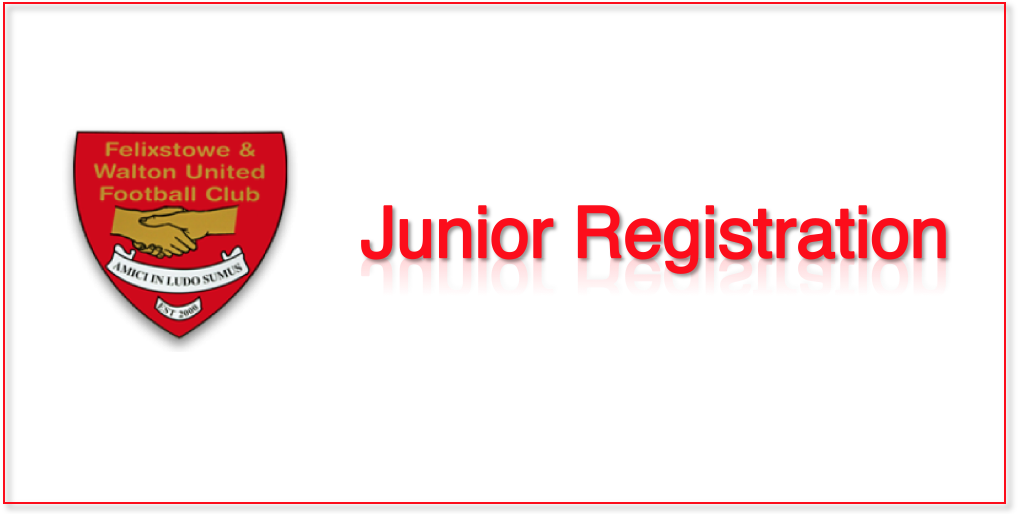 The online registration for 2019/20 will open from 1st July 2019
If your child is looking to join the football club, please contact the relevant Coach for your interested age group. These details can be found in the Junior Section by clicking here. 
Please do not register before confirming availability with relevant manager as teams may be full at the present time.
Felixstowe and Walton United Football Club are a Charter Standard Community Club providing football facilities for both girls and boys from 5 to 18 years old. The Club fully adopt the FA Respect Campaign and their Anti-bullying policy.
Prices for 2019/20 Season
Under 6
£10
Under 7
£20

Under 8 Red
Under 8 White

£75

Under 9 Stripes
Under 9 Red
Under 9 White
Under 10 Red
Under 10 White
Under 11 Red
Under 11 White
Under 12 Red
Under 12 White

£95

Under 13 Red
Under 13 White
Under 14 Red
Under 14 White
Under 15 Red
Under 15 White
Under 16
Under 16 EJA

£105
Under 16 + Under 16 EJA - Joint
£140

Under 10 Girls
Under 11 Girls
Under 12 Girls
Under 13 Girls
Under 14 Girls
Under 15 Girls

£75