TUE
03
SEP
-
BURY
TOWN
(AWAY)
-
Velocity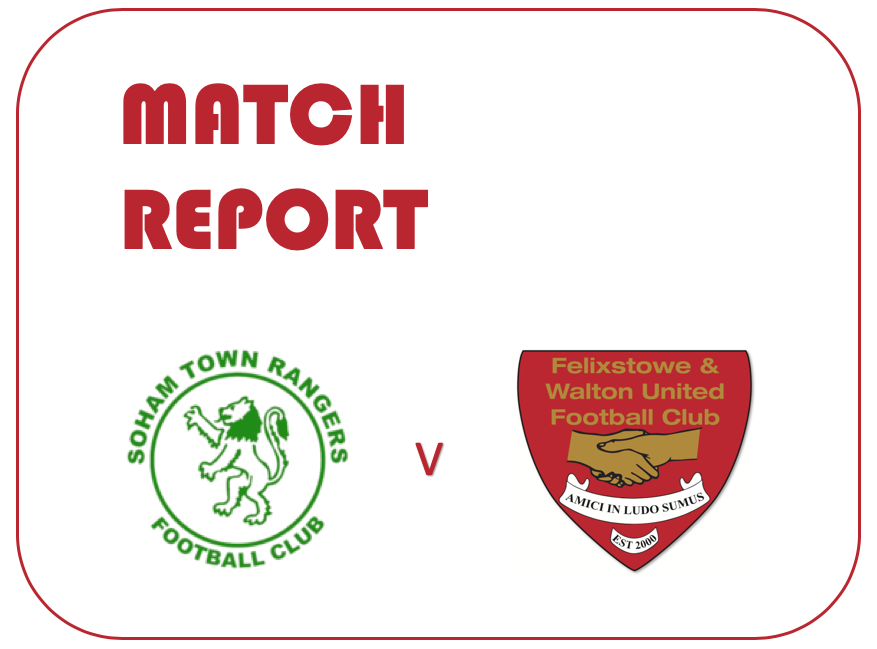 BURY TOWN 5 - 1 FELIXSTOWE & WALTON UTD
Attendance 210
It has to be said that whilst having the proverbial bad day at the office is part and parcel of everyday life, having a number of bad days at the office day after day begins to raise some questions and those questions and views are now being expressed.
It's upsetting to see both fans and players, as well as coaches, looking downcast but not surprising given recent performances. You would need extra special rose tinted spectacles to be viewing current form in a positive light.
The switch from three at the back to four did seem, certainly in the early stages, to offer a more solid look about our play. Also, making his debut for The Seasiders was Braintree loanee Jaydon Gipson and in at the back was Kyle Jopling; Dan Davis and Isaac Skubich making way.
Unfortunately, after just 9 minutes on the clock, a Bury free kick from around the half-way line found the head of Jarid Robson, who netted from close range giving keeper Jack Spurling little chance.
Just two minutes later Spurling found the ball at his feet but failed to clear, allowing Robson to put the home side two up. As mentioned above, we did manage to move the ball into the Bury half but clearances from the home side threatened to catch us out again and again. Three times we failed to clear from close to our line and could have fallen further behind on more than one occasion.
The nearest we came to a goal was when Joe Bloomfield hit the post midway through the first half, but Bury were fast, determined and lively up front and we allowed them a few free headers close to goal. A mistake in midfield after around 30 minutes allowed Bury's Emmanuel Machaya to send in a low cross from the left with the result being goal number three from Ollie Hughes. It's debatable whether this goal belonged to Hughes or whether it was an own goal, although in the final analysis it didn't really matter that much.
The second half saw James Hubbard on for Miles Powell and Jamal Wiggins for Joe Bloomfield. Within three minutes of the re-start we'd managed to pull a goal back. The ever-lively Jordy Matthews was pulled down in the box providing Tom Debenham with the opportunity to convert from the penalty spot which he did with style.
Any hope of a comeback was short lived when the home side bagged goal number four with Machaya on the scoresheet, finding the top left-hand corner of the net from a little way inside the box. Shortly after Fernando had replaced Stuart Ainsley, Ryan Jolland scored goal number five on 67 minutes, giving Bury an unassailable lead. Skubich and Hansen replaced Gipson and Debenham under different substitution laws applicable to The Velocity Trophy where up to five changes can be made but by this stage we had seen the final goal of the evening.
James Hubbard impressed towards the end of the game and we did seem to pick things up as full-time approached, with more pressing further up the field, but another defeat, albeit not a league defeat, did make for a few unhappy faces after the game.
It would be wrong not to give voice to some comments made by Felixstowe fans leaving the game, some of which, regrettably, were re-printed in The Bury Free Press. There were comments such as, "back to Thurlow Nunn for the Seasiders", "a disgrace', "same every match from Felixstowe. Back line is terrible" and "why do we have to play out from the back all the time?".There were, of course, also voices of support come what may, but probably not quite so many.
It's very uncomfortable hearing such comments but, as mentioned elsewhere, it would be incorrect to ignore the views of loyal fans.
The First Team has no game this weekend and this will, hopefully, allow Watty and Danny to re-group and consider their approach for the next game in The BetVictor Isthmian League, which is at home to Cambridge City at 3 o'clock on Saturday the 14thof September.
Details of line up here