SAT
31
AUGUST
-
SOHAM
TOWN
RANGERS
(AWAY)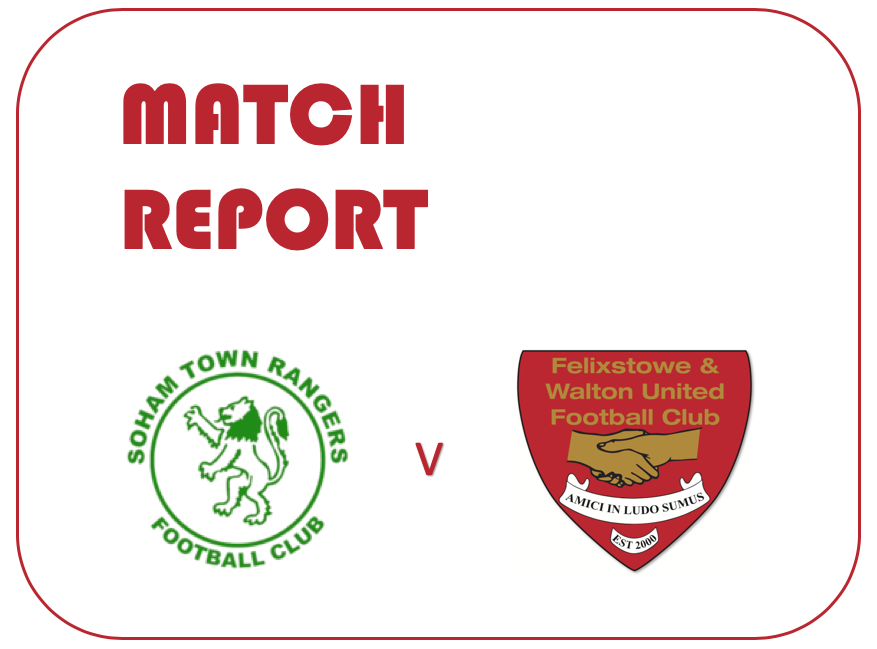 SOHAM TOWN RANGERS 3 - 0 FELIXSTOWE & WALTON UTD
Attendance 136
Make no mistake, this was poor. Going down to Soham Town Rangers three goals to nil suggests there is plenty of work for Watty and Danny to do. Whilst Soham fully deserved the three points, this was a game we lost rather than a game they won. That may sound disrespectful to the Cambridgeshire side but we gifted each one of the three goals they managed to put away on Saturday.
It is, of course, far too early to start worrying about league tables but seeing us in 18thspot doesn't look pretty and it's clear Watty and Danny have some work to do. Speaking after the game, Watty did look dejected. Here are his words in their entirety: "That's probably the lowest point to date. We've done well in games with a good start, a poor first half but good second half and so on but to come away after what we did last week against Heybridge and do what we did today is just not acceptable. It was poor. Every single player coming out of the dressing room is disappointed. They've all got to take a look at themselves and ask how have we gone from one end of the scale to the other. We didn't really come up against it today. We've given away three goals again and we just can't afford to do that so Danny and I need to have a very long hard chat tonight. We gave them periods in the game where they got their goals and we really can't afford to do that at this level. If you let sides have opportunities like today, they will come back and bite you on the backside. Sam Mulready, up front for them, is probably the best striker in this division with five in five but you have got to be able to deal with that. The physicality annoyed me because we're the bigger side yet we seemed to get knocked off the ball too much."
As for the detail, Joe Bloomfield came in for Henry Barley on the left while Josh Kerridge replaced Kyle Jopling at the back following the game against Heybridge Swifts last Monday. We got off to a poor start and it wasn't really until the quarter-hour mark that we managed to apply any real pressure. The action, however, was at the other end, where Jake Andrews put keeper Jack Spurling under pressure a couple of times before finally netting on 37 minutes, having received a well-placed ball from Sam Mulready. Within one minute, Mulready put away his fifth goal in five games to give the home side a well-deserved two-goal lead at the break. 
Our best effort in the first half had come from a Tom Debenham through ball which saw  Armani Schaar's effort tipped over the bar by Josh Pope in the Soham goal. For a moment, it looked like Schaar might just have sneaked the ball under the bar for what would have been a very impressive goal. Sadly, it wasn't to be.
We had little to offer in the second half apart from a shot from distance from Stuart Ainsley and when Toby Andrews put away number three for Soham ten minutes from time, the game was finally lost.
And so it's off to Bury on Tuesday for a local derby group match under the lights in The Velocity Trophy. Speaking about that game, Watty added, "We have to change things. We can't afford to lose two games on the bounce like this. We're conceding too many goals so we do need to change things. It's a local derby and it doesn't matter what game it is, it's a local derby and there will be a few up there. It's nice to have a game so soon and this is an opportunity for us to turn things around."
Depending on the outcome of Witham's FA Cup replay at home to FC Clacton on Tuesday, we could find ourselves at home to Witham this coming Saturday in a rearranged game. Should Witham beat Clacton, however, this Saturday we will be without a game.
Details of line up here