SAT
24
AUGUST
-
AFC
SUDBURY
(AWAY)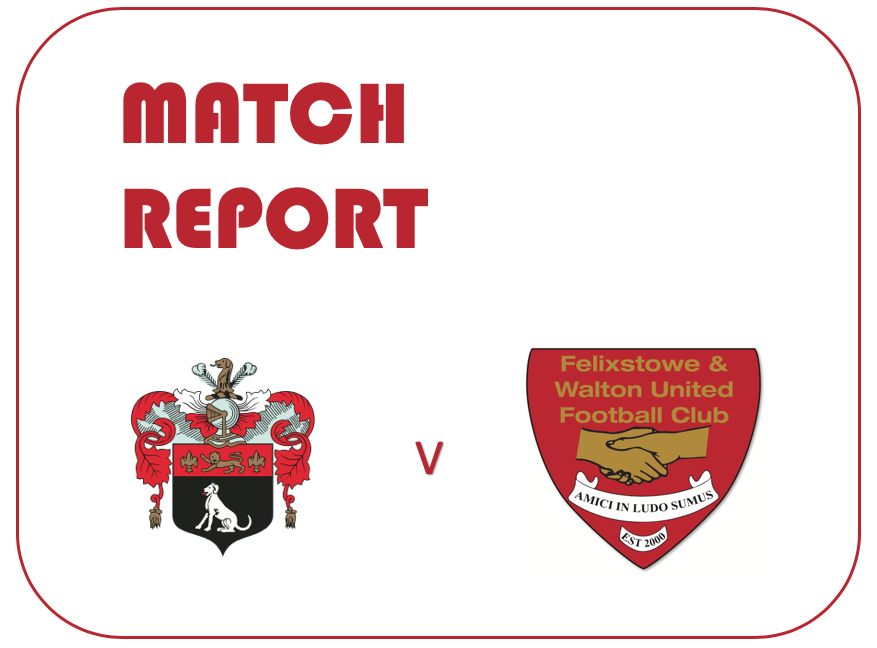 AFC SUDBURY 2 - 1 FELIXSTOWE & WALTON UTD
Attendance 201
Following last Tuesday's league match at AFC Sudbury where we came away with all three points following an Armani Schaar goal on 62 minutes, The Suds' manager, Mark Morsley made his frustration clear. He was of the view that were his young team to perform the same way in the cup game four days later, his boys would come away with a 5-0 win. Needless to say, when his views hit social media, many people thought the Sudbury boss had just given The Seasiders a perfect motivational speech. Consequently, many fans fully expected to see us raring to go full throttle. The reality was, however, that we really didn't perform on the day with too many passes going astray and what seemed to be an inability to get into top gear.
Writing match reports for the press and website requires being as objective as possible, not falling into the trap of seeing doom and gloom, but also not seeing the world through rose-tinted glasses. On this occasion it has to be said that we were poor on Saturday. Fortunately the games do come thick and fast at this stage of the season and we play host to Heybridge Swifts tomorrow, Bank Holiday Monday, at 15.00 where we can be sure Watty and Danny's boys will be eager to make amends. Speaking about the Sudbury game, Watty told us, "Apologies for our exit from the FACup. (This was) not the overall performance we wanted and you cannot afford to give away two goals at this level. We showed heart in the 2ndhalf and would have loved to nick the equalizer. (Sadly) it wasn't to be."
Just like last Tuesday, we looked decent in the very early stages with club captain Stuart Ainsley making an important tackle at the back and a good effort from Callum Bennett following a cross from Jordy Matthews. Armani Schaar blasted a shot, which hit the bar from a difficult angle. An inch or two lower and we would have taken an early lead. Unfortunately, just a couple of minutes later Sudbury took the lead with a rebound effort from Sean Marks after keeper Jack Spurling had made a very good save; the goal itself having followed a defensive error on our part.
Schaar came close again on 12 minutes, forcing a decent save from keeper Paul Walker but otherwise, we were not able to create any real chances. Meanwhile, on 15 minutes, another defensive mix up led to a second goal for Sudbury in off the post from Liam Bennett.
After the break we were thrown a lifeline when the ever-busy Schaar had his heels clipped just inside the box. Up stepped Tom Debenham to convert with confidence leaving just a one-goal gap. We did appear to have a little more to offer in the second half, Miles Powell shooting from distance on 56 minutes. Just 5 minutes later Stuart Ainsley was judged to have fouled inside the box giving the home side the opportunity to extend their lead, but Spurling dived to his left to save the penalty meaning a share of the spoils stayed within our reach for the rest of the game.
A well-directed pass from Schaar to Bennett, who shot just wide, was the closest we came in the latter stages but it was that man Spurling who kept the score at 2-1 with a fine fingertip save on 75 minutes. He hadn't been kept as busy as he was on Tuesday night but he played yet another important role for us.
Josh Lee, on for Debenham, looked to be through for a one-on-one with keeper Walker on 78 minutes but, unfortunately, it wasn't to be.
With 4 minutes to play, a scuffed shot with massive spin saw Spurling make an impressive save before gathering the rebound effort from the Sudbury striker. Man of the match, Sudbury's Liam Bennett brought yet another double save from Spurling before finishing the game by hitting the bar. The Suds deserved their win and all attention now goes to that Bank Holiday fixture at home to Heybridge Swifts.
Details of line up here