TUE
30
JULY
-
WALSHAM
LE
WILLOWS
(Away)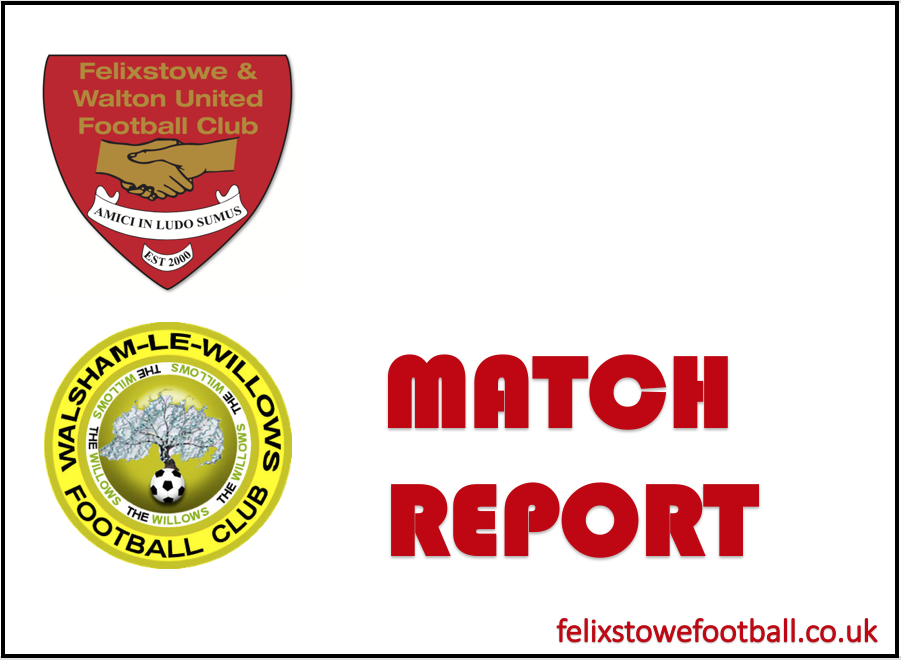 WALSHAM LE WILLOWS 3 - 0 FELIXSTOWE & WALTON UTD
Ok, so it was only a pre-season friendly and we all know results don't matter. Nevertheless, Tuesday's evening's performance can only really be described as "disappointing". After Saturday's performance against West Ham's Academy and last week's visit of Ipswich U18s, a 3-0 defeat at Summer Road has brought us down to earth a little.
Having said all that, it would do well to remember that there were a number of senior and regular players left behind in Felixstowe for Tuesday night training plus the fact that Watty and Danny are undoubtedly still trying different permutations, pairings and so on. In the words of the Walsham Le Willows Warbler, AKA their Twitter account…"only a friendly, no need to get excited. Decent tho…"
Within minutes of the kick off it became apparent that this was going to be a more physical game than last Saturday's. It was on around 13 minutes that the breakthrough came when we paid for a silly mistake at the back that allowed The Willows to take an early lead.
Felixstowe Old Boy Craig Jennings was a busy man who came close to extending the home side's lead on 21 minutes but for an impressive stop from Danny Crump who first spilled the ball but then gathered comfortably. A Pablo Chaves effort, following a Henry Barley cross, required an equally impressive save at the other end 5 minutes later. Captain Dan Davis cleared off the line with 10 minutes remaining in the first half with Josh Collins doing the same a little later.
For our part we too had a Barley effort blocked on the line but it was Walsham who extended their lead when Jennings converted from a few yards out early in the second half. There were a number of substitutions on the hour mark with Collins, Debenham, Jude-Boyd, Kerridge, Bloomfield and Barley all coming off to be replaced by Ainsley, Leggett, Schaar, Bolt, Rushden and Porter.
We could have gone 3 down after 67 minutes when Walsham hit the bar, came close to reducing the deficit on 75 minutes after Rushden couldn't quite angle the ball over the line, then did concede another goal on 77 minutes following another defensive misunderstanding. Meanwhile Dan Davis was forced to come off with a slight knock (nothing serious) allowing Josh Kerridge to re-enter the field of play.
Hillyard brought off another good save from their keeper with 10 minutes left to play and a few minutes later Schaar came close but yet again it was their keeper who came to the rescue.
Next up for The Seasiders is Friday evening's trip up the A12 to Leiston FC. Tuesday the 6thof August sees the visit of Crane Sports (free admission for this game) to The Goldstar Ground, with our trip to Kent to play Herne Bay on the 10thof August wrapping up our busy pre-season fixtures. If you can't make it to Herne Bay that day, remember that our reserves host Achilles at The Goldstar Ground on the same day.
And don't forget, sandwiched between these games is The Big Walk starting from the clubhouse this Sunday the 4thof August. No need to pre-register. You can turn up on the day to pick up maps for 10 mile, 6 mile or 3 mile walks starting at 10 am for the 10 mile walk and pretty much any time during the morning for the other walks. It's all in aid of club funds and Crohn's Disease and Colitis. If you can't get sponsoraship together, donations are very welcome. The walks are buggy friendly and if 3 miles is too long, any distance can be walked. More details are on the website.
Line up:
Crump, Kerridge, Davis (c), Collins, Chaves, Jude-Boyd, Hanson, Bloomfield, Barley, Hillyard, Debenham. Subs: Bolt, Rushton, Schaar, Porter, Ainsley, Leggett.