SAT
27
JULY
-
WEST
HAM
XI
(Home)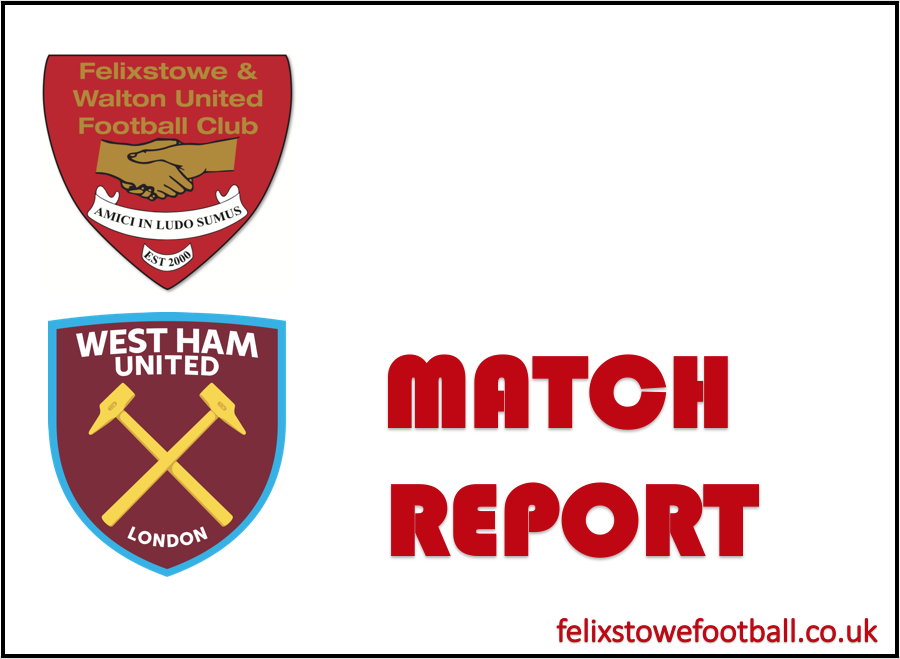 FELIXSTOWE & WALTON UTD 3 - 2 WEST HAM XI
After Tuesday's fine performance at home to Ipswich U18s, Watty and Danny's new-look side took to the field at home to a West Ham XI on Saturday in front of 472 spectators. Whilst there may have been one or two voices suggesting this encounter was likely to be perhaps a little tougher than the midweek fixture, people were left in no doubt by the end of this match that the performance against Ipswich was no fluke.
It took just 2 minutes before we saw some fine footwork in midfield, an excellent through ball from Jordy Matthews and Armani Schaar on hand to confidently convert for a one-goal lead and surely a goal in contention for "goal of pre-season" so far. We looked quick, sharp and spirited and possibly left West Ham wondering quite what had hit them.
On 23 minutes a Callum Bennett corner from the left found the ever-busy Jordy Matthews' head and the back of the net leaving the visitors ever so slightly stunned.
We looked focused and energetic while West Ham were not really threatening at all. In fact the Londoners were thoroughly outplayed in that first half, securing their first attempt on goal in the 41stminute. A minute later keeper Danny Crump saved well to keep West Ham at bay and we could well have gone into the break three up when Schaar clipped the bar with their keeper beaten.
There were a number of changes after the break with Danny Crump, Fernando Herrera, Tom Debenham and Miles Powell all making way for Jack Spurling, Liam Hillyard, Rahim Jude-Boyd and Henry Barley. It's sometimes the case that the introduction of so many substitutes can disrupt fluency in a game and, whilst it's true that West Ham were a little more involved after the break, this was still a game where The Seasiders were in control.
On the hour mark Jordy Matthews, Callum Bennett, Armani Schaar, Stuart Ainsley and Jamal Wiggins all left the pitch with Josh Collins, Pablo Chaves, Adam Hansen, Rory Porter and Evan Bolt coming on.
The rain came down a little in that second period but it failed to dampen the spirit which was actually lifted to another level when team captain Dan Davis headed home from another corner giving us a 3-goal lead.
With just minutes remaining, West Ham did manage to narrow the deficit when Jack Spurling made a good save but struggled to hold on to a slippery ball. Shortly after this, West Ham managed a second goal which (and this is where I venture a solid personal opinion) for all the world looked offside.
But make no mistake, these two late goals took nothing away from a thoroughly deserved home win for Felixstowe & Walton who visit Walsham Le Willows on Tuesday and Leiston Friday evening.
After the match we spoke to club captain Stuart Ainsley who said, "It was an excellent workout for us again. First half we were superb and they couldn't get near us to be fair. With them being a good quality outfit playing full time, I thought we dominated first half. Best we've been for four or five years. We've had some negativity thrown at us over the summer but Tuesday night and today shows we have got nothing to worry about. It's all about progression. We've still got a couple of weeks until our first game. We've still got a lot of work to do but there are definitely some signs that we can play some attractive football and win a lot more games."
We lined up as follows (3-5-2)
Crump
Kerridge
Davis
Ainsley
Bennett
Powell
Matthews
Wiggins
Herrera
Debenham
Schaar
Subs: Hillyard, Chaves, Collins, Bolt, Porter, Jopling, Hanson, Jude Boyd, Barley, Spurling
Meanwhile, lest we forget, Simon Tricker and Kevin Baker were working hard elsewhere setting up the reserves for their trip to Haughley United FC. This game saw another Seasiders victory with a four 4-2 win with Chidlow bagging two and Smith and Phillips one goal each.
The Reserves lined up as follws: (3-5-2)
McCarthy
Burns
Ellison
Rushton
Murphy
Haighton ©
Hughes
Ricardo
Jones
Challis
Smith
Subs: Hunt, Crapnell, Chidlow