TUE
23
JULY
-
IPSWICH
TOWN
U18
(Home)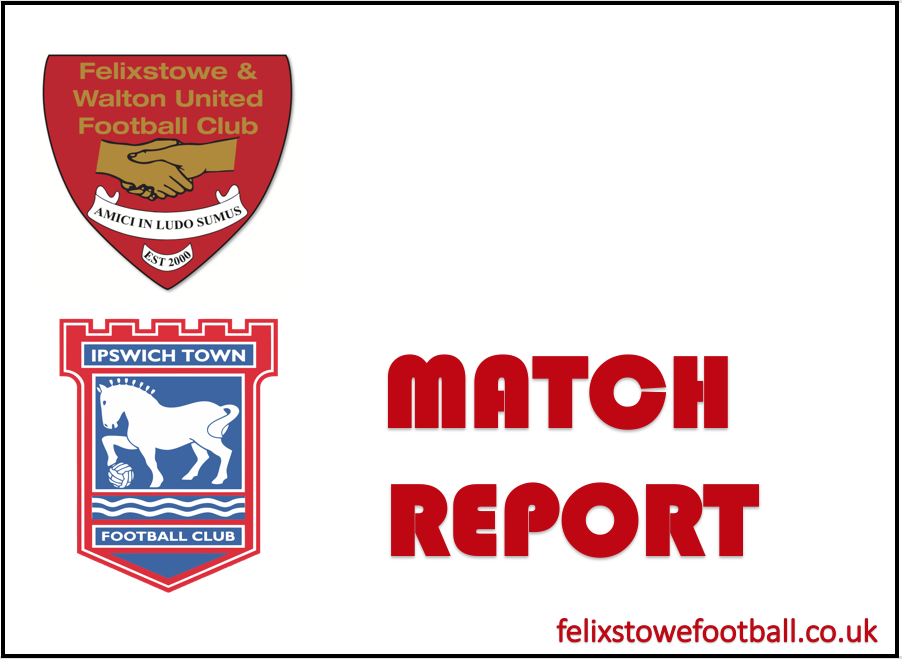 FELIXSTOWE & WALTON UTD 1 - 1 IPSWICH TOWN U18
When we left the field of play, having shared the spoils with Ipswich Town U18s players, coaches and fans could all be forgiven for feeling somewhat disappointed. This 1-1 draw might easily have been a convincing win for The Seasiders and although results in pre-season friendlies may not be the most important thing, everyone likes to win football matches.
It was really only during the first five minutes that Ipswich impressed as they raced toward a one-goal lead on just 3 minutes. Some clever footwork in the box from the visitors left Dan Davis and Jack Spurling grounded as the Ipswich forward clipped the ball in from close range.
With just 10 minutes on the clock, however, we were back on level terms. A Henry Barley cross from the left was headed home by captain for the night Callum Bennett. It was Barley and Bennett in particular who were both getting plenty of joy on the two flanks and with Tom Debenham and Armani Schaar keeping themselves busy throughout, we were unfortunate not to go into the break ahead.
After the interval, we saw all eight substitutes on with Powell, Matthews, Wiggins, Bennett, Ainsley, Kerridge, Debenham and Barley all making way. Whilst it may have been the case that one or two people might have thought, with so many changes, that we would struggle, the opposite was the case. We kept the pressure on with Josh Lee busy up front, Pablo Chaves offering support and the entire team working hard, challenging every ball. In fact it's unfair to single players out because this was a real team effort and what we witnessed was a coming together of so much of the work that has already gone into the pre-season programme to date.
Ipswich were reduced to 10 men towards the end of the second half and seeing them with a back five for parts of the game was an indication of how hard they were having to work to keep the scoreline at 1-1.
Before the match, Josh Collins signed for the club coming across from Long Melford.  Check out the interview with him on Seasiders TV on Friday.
Next up Felixstowe & Walton face a West Ham XI on Saturday at 3pm and prior to that is The Fans Forum on Thursday evening at 7.30pm for 8pm.
Line up v Ipswich Town U18s
Spurling
Kerridge
Davis
Ainsley
Bennett ©
Powell
Matthews
Wiggins
Barley
Debenham
Schaar
Subs:
Herrera
Chaves
Collins
Bolt
Lee
Hanson
Jopling
Jude-Boyd