THU
18
JULY
-
BRANTHAM
ATHLETIC
(AWAY)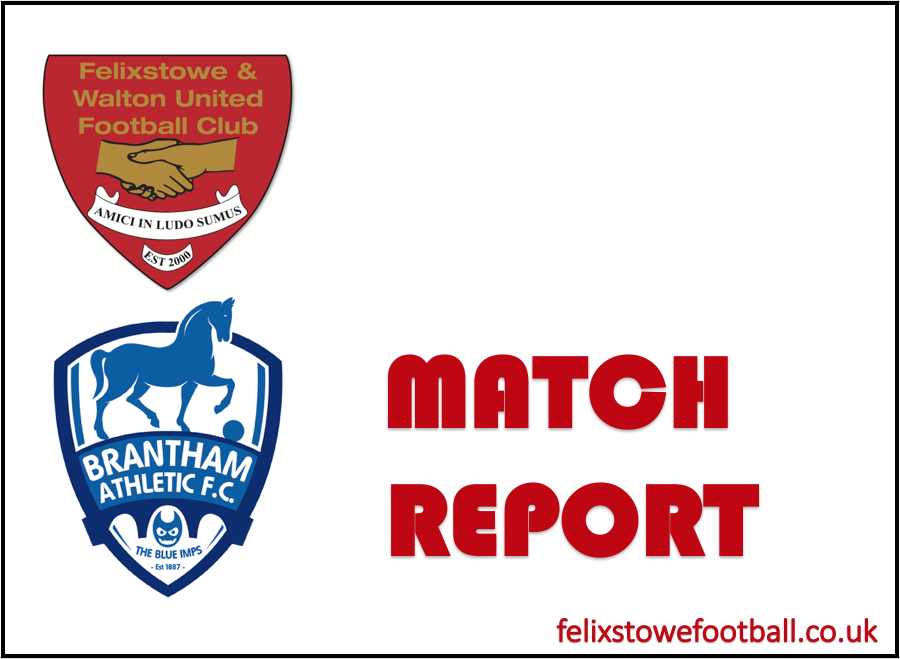 BRANTHAM ATHLETIC 3 - 1 FELIXSTOWE & WALTON UTD 
Thursday 18thJuly 2019
The Battle of 10,000 Mosquitos, as it will now be known, at the Brantham Leisure Centre on Thursday night, pitted The Blue Imps against The Seasiders with the home side coming out 3-1 victors. Again, Watty and Danny put out side with a number of trialists, reserves and under 18s, while the rest of the squad took training back in Felixstowe. Lining up for the Seasiders were:
Danny Crump

Dan Davis ©
Stuart Ainsley
Travis Smith

Sean Munroe
Jordy Matthews
Rory Porter
Jamal Wiggins
Josh Collins

Liam Hillyard
Ashley Rankin
On the bench we had:
Nathan Read              ex AFC Sudbury
De-Costa Holness
Cale Jones
Kristian Haighton
Ricardo Phillips
Josh Moore                 ex Leiston & Braintree
Brantham took the lead on 15 minutes when Karlos Andrade converted a cross from the left. Just 8 minutes later we witnessed what could be argued to be the goal of pre-season so far when Rory Porter powered the ball into the net from distance.
As half-time approached it looked like the sides would go into the break on level terms, but with just a couple of minutes remaining first Regan Pelling, then Andrade again, gave Brantham a 3-1 lead.
There were no further goals in the second half but there were a number of changes for both sides with all our subs used, replacing Jordy Matthews, Travis Smith, Jamal Wiggins, Josh Collins, Sean Munro and Liam Hillyard.
Unfortunately we did pick up a couple of knocks but probably won't have news until the weekend regarding fitness.
On Saturday the first team travels to Woodbridge while the reserves face Trimley Red Devils at The Goldstar Ground. This will be the first time during the pre-season campaign that Watty and Danny will be fielding two separate sides at the same time.
As the first team squad slowly begins to take shape we will soon be putting out news via all the usual social media outlets with squad photos etc.
In other news, we face Ipswich Town Under 23s on Tuesday night, a West Ham IX next Saturday and, sandwiched between these two games, The Fans Forum on Thursday 25thJuly (7.30 for 8 pm) at The Goldstar Ground where you will be able to meet the senior coaches and a number of players with your football or media questions.
If you can't get over to Woodbridge on Saturday, remember our reserve game is free admission!