TUE
16
JULY
-
NEWMARKET
(AWAY)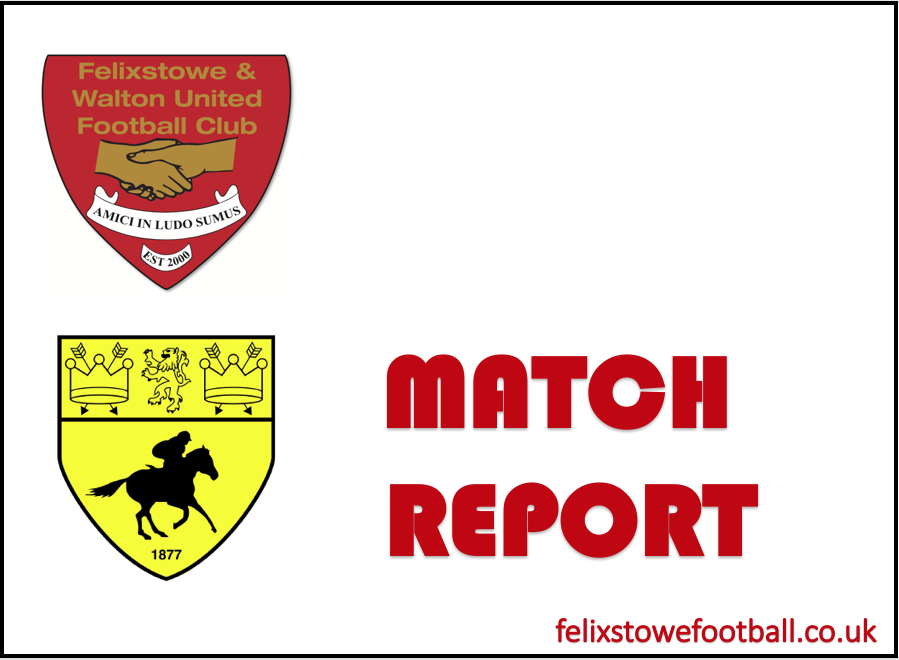 NEWMARKET 3 - 1 FELIXSTOWE & WALTON
Our Summer tour of East Anglia and Kent took the A14 to Newmarket on Tuesday evening for an encounter with The Jockeys at Cricket Field Road.
Miles Powell had the captain's armband and headed a line-up which included a couple of new faces (details below) and a total of six substitutions in the second half. We lined up as follows:
1 Jack Spurling

4 Josh Kerridge
6 Kyle Joplin
5 Fernando Herrera

2 Pablo Chaves
7 Miles Powell ©
10 Armani Schaar
8 Evan Bolt
3 Henry Barley

9  Tom Debenham
11 Josh Lee
Subs
Rory Porter
Rahim Jude-Boyd
Morgan Rushden
Charlie Hughes
Adam Hansen (ex AFC Sudbury)
Tom Woerndl (ex Needham Market)
We took the lead on 15 minutes following some good work on the right flank from Josh Lee who was busy throughout, and although Tom Debenham may wish to claim the conversion, in all fairness I think this probably needs to go down as an own goal. Just 2 minutes later the home side were on level terms with a cross from the right converted from the edge of our box past keeper Jack Spurling. Following something of a mix up after a corner from the left, Newmarket took a 2-1 lead as the game approached half time.
Adam Hanson came on for Fernando Herrera in the second half and on 60 minutes Watty and Danny made a number of other changes. Kyle Joplin and Josh Kerridge came off with Charlie Hughes and Tom Woerndl slotting into a back three which now included Miles Powell dropping back from midfield. Morgan Rushden replaced Pablo Chaves wide right. Evan Bolt made way for Rahim Jude-Boyd and Rory Porter came in to midfield, sending Armani Schaar up front and Josh Lee coming off.
This was a competitive second half with lots of energy and another two faces for Watty and Danny to look at. In the four games so far, we have seen a number of new players, people in a number of different positions and four different captains. Undoubtedly this is all providing our management team with lots of information and, of course, a number of decisions to make. The game finished with Newmarket managing a third goal late on.
Next up, we are on the road again meeting Brantham Athletic on Thursday before the short trip to Woodbridge on Saturday. Our 2ndstring meet Trimley Red Devils this Saturday at home and this game will be free admission.
You will be able to see the Seasiders TV interview with new signing Pablo Chaves at the weekend and we hope to bring you more information about other new faces at the club in the coming weeks.
Don't forget, next Thursday 25thJuly, you are invited to come along to the clubhouse for The Fans Forum. You'll be able to meet Watty and Danny, other members of the coaching team and some players, and be invited to put your football or media questions out there. If you can't make the Forum, but have a question you want to ask, e-mail it to This email address is being protected from spambots. You need JavaScript enabled to view it.(put FansForum Question in the subject box) and we will put you question on the night and post the answers later via the various social media platforms.