Felixstowe
and
Walton's
2018-19
Senior
Presentation
Evening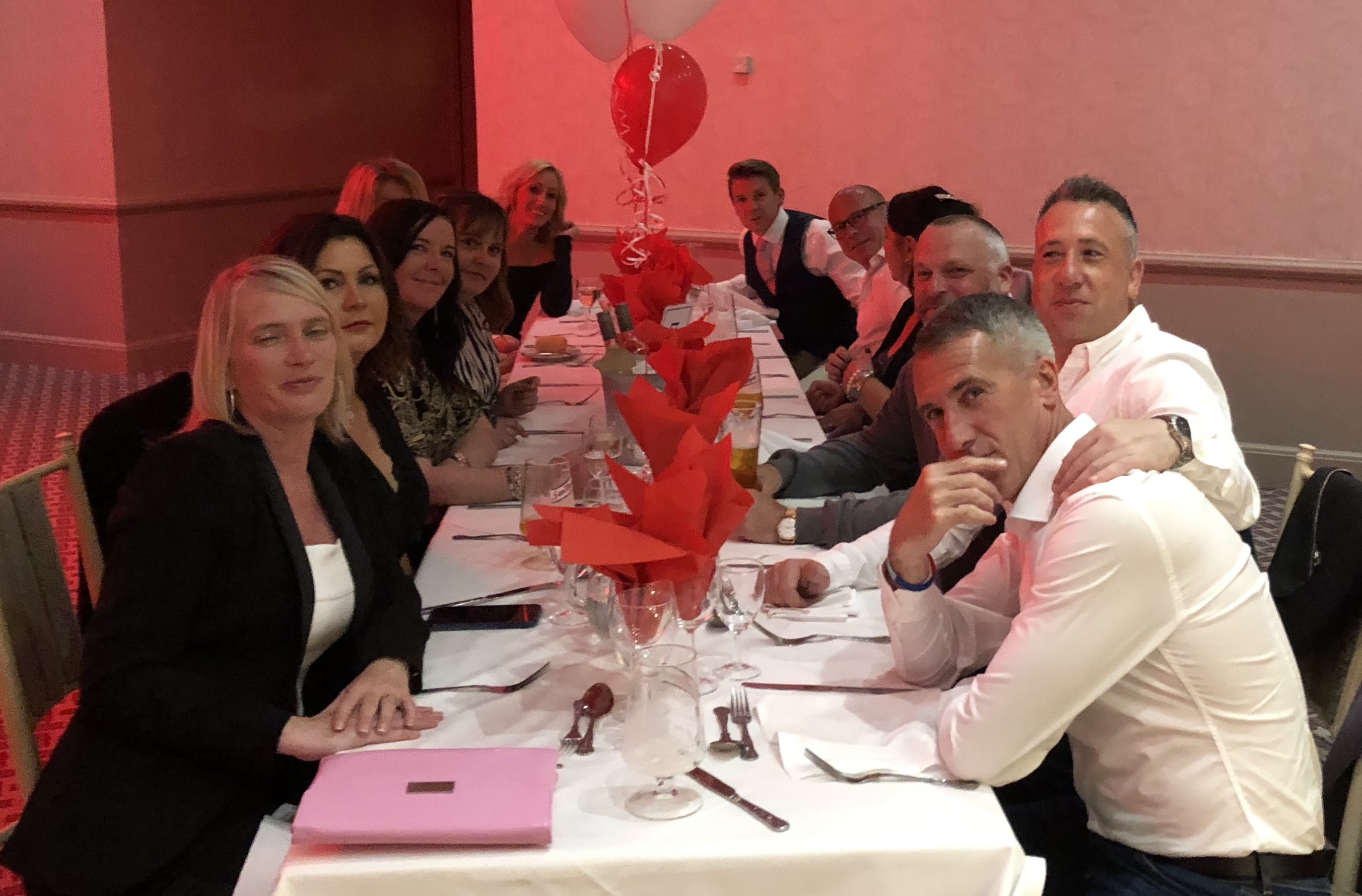 Saturday 25th May saw Felixstowe and Walton's 2018-19 Senior Presentation Evening take place, held at the Orwell hotel in Felixstowe.  As a formal end to the season, the evening paid tribute to everyone involved in the senior squads (U18s, Reserves and First Team) and their work over the previous 10 months.
The main event of the evening were the awards, so, without further ado, let's see who received what.  However, if you want to cut straight to the chase, scroll down for a complete list.

After his breakthrough into the First Team this season, Rory Porter was voted U18s Players' Player, with Liam Crapnell chosen as their Managers' Player and there were many kind words to accompany the award itself.  Liam did the double, by also receiving the Reserves Managers' Player award and the ever-popular Evan Bolt scooped up the Reserves Players' Player award.
For the First Team, there was little surprise with the Supporters' Player of the Year award going to goalkeeper Jack Spurling.  Only missing one game all season, he has become a popular player and reliable pair of hands for the team in his first season at the club.  Josh Kerridge scored a brace with two awards, the first as Players' Player of the year and the second as Managers' Player of the year.  His move to playing at the back for much of the season won him a lot of plaudits.
Jack Ainsley also received the Top Goal Scorer award, having netted 29 goals in all competitions this first season at the club.  Finally, for the First Team, Dan Davis was presented with a framed certificate for reaching his 300thappearance for the club, a great feat for a true Seasider.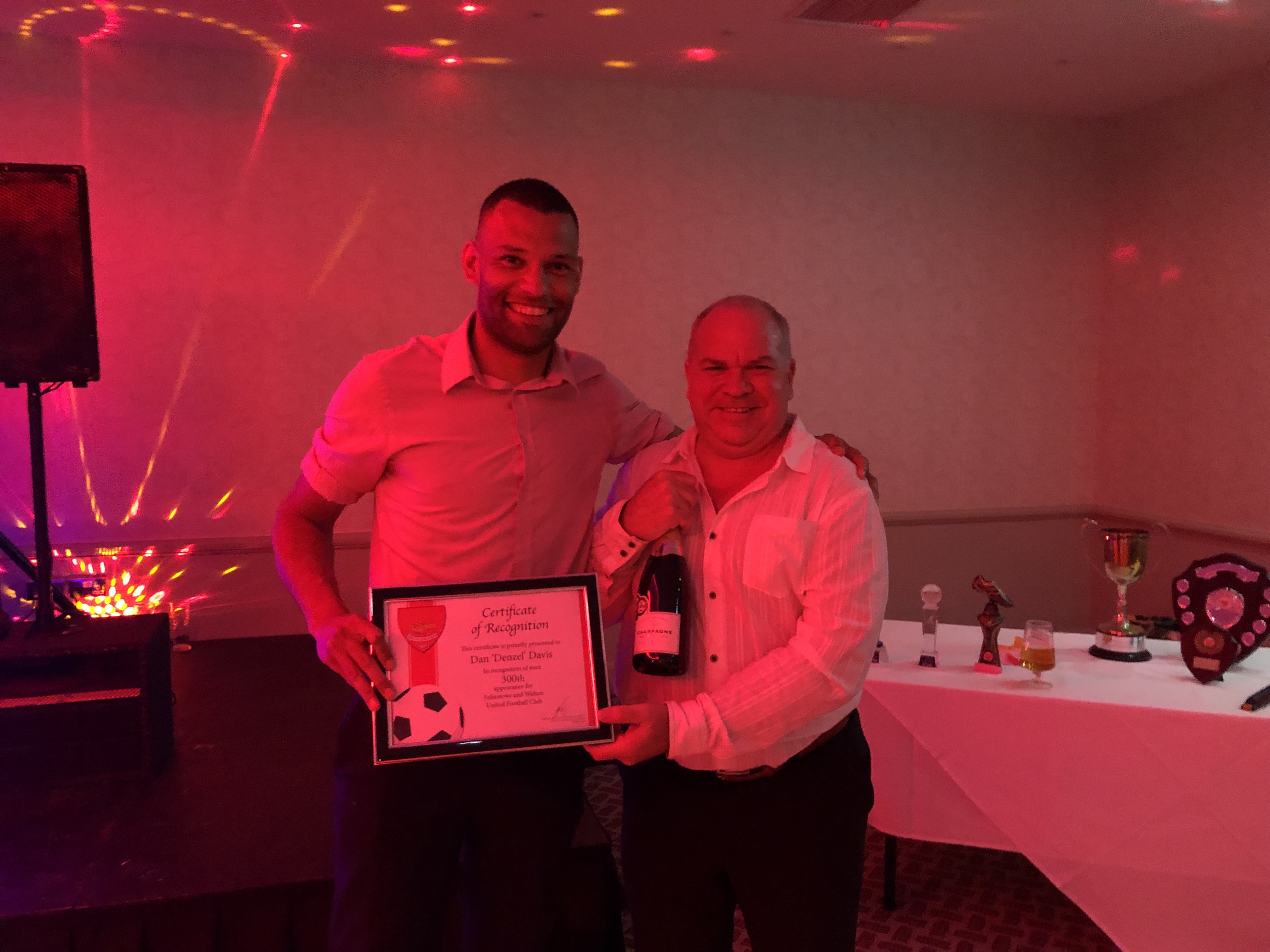 In addition to the players' awards, there were two other special awards made.  The first of these was for Reserves Assistant Manager, Alex Egelton, who was presented with the Committee Cup, which goes to the person who the club committee feels has represented the club in a positive way over the season.  Alex has worked tirelessly with the Reserves all season, and was proud to see them remain in Thurlow Nunn Divison One for the 2019-20 season to come.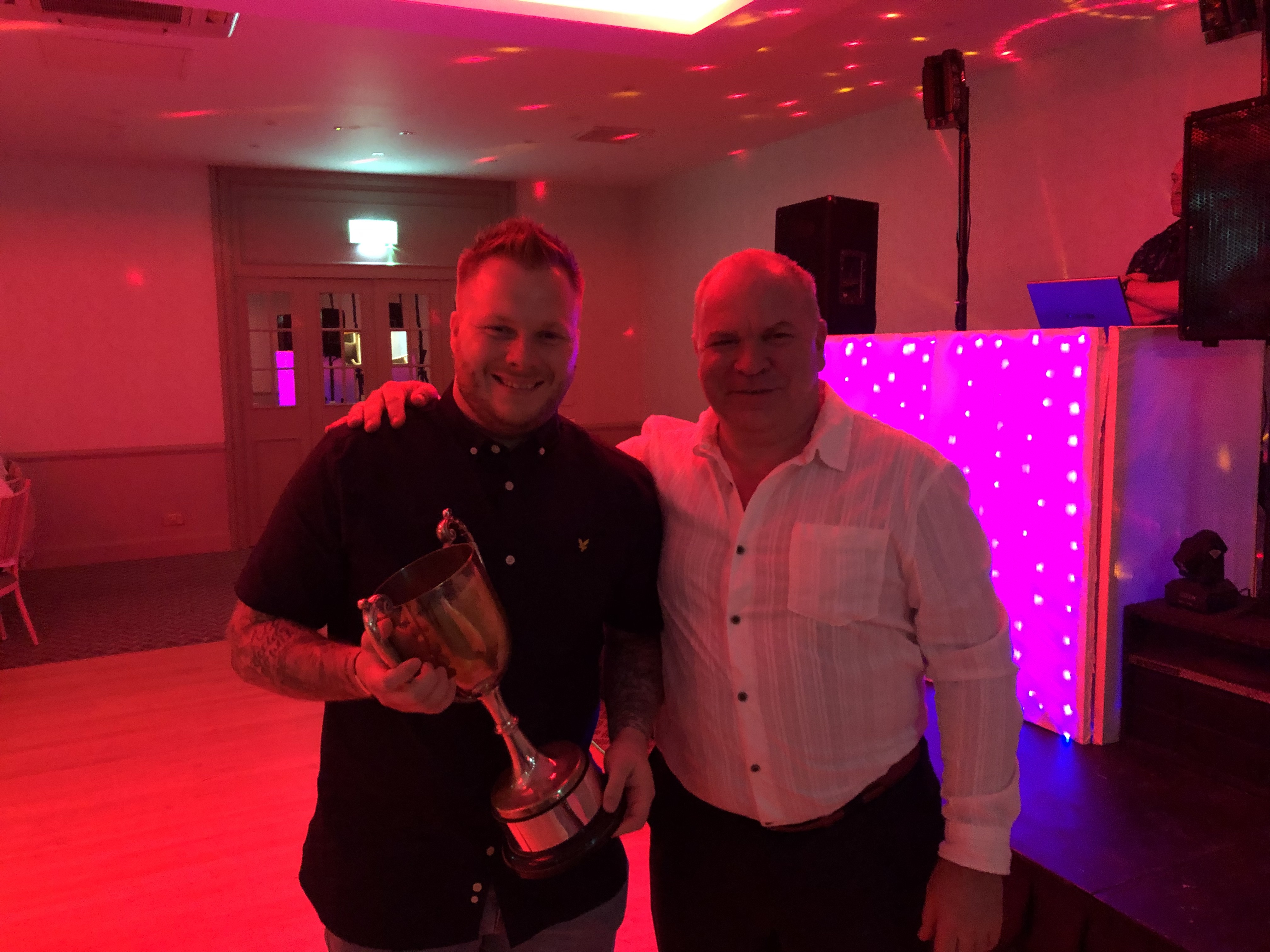 The second was for outgoing Club Treasurer Shaun Ruddock, who received the Clubman of the Year award.  He was presented the award by Club Chairman, Andy Wilding, who thanked him for his dedication and work.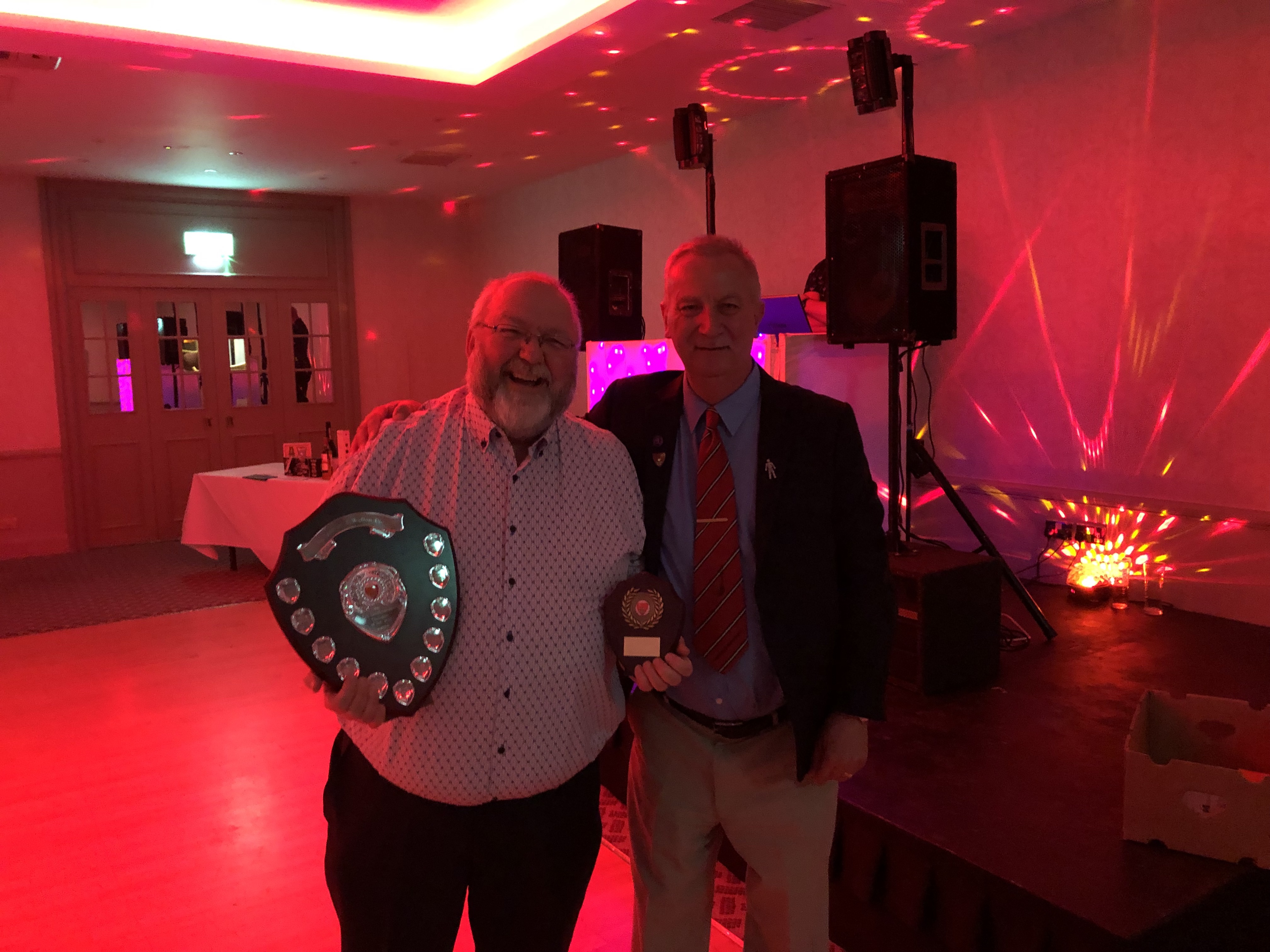 There were also presentations made to others involved with the First Team, including Craig Studd (kit), Stuart Stevenson (coach), Gary Hammond (coach), Peter Trivivian (Head of Player Development) and a special thank you to Danny Bloomfield's other half, Katie, for letting us take him away from her so much since he joined the club as Assistant Manager!  Graham Fisher was given a big thank you for providing such amazing match-day food, the envy of the Bostik League.

Many of the female club volunteers were presented with flowers by the First Team players:  thanks went to, Christine Florey, Lynn Hakes, Debbie Fisher, Kate Mitchell, Carole Robinson, Jo Watson, Winnie McClean and Julie Beecroft.

Apart from the awards, the evening also featured other highlights.  Quite how Danny Bloomfield won the heads and tails competition, we don't know. … as Bolty said on the night, our head tosser, Mr Watson, needs to learn how to toss better!  Jim was in his element, with his able assistant Julie, collecting pennies (or rather pounds) for the raffle, which we understood raised decent funds for the club. 

Unfortunately, our club photographers were not available on the night, so some of the photos you may see are rather red (well – at least that's our club colour, so it adds to the evening!).  It might have helped if Barry had switched the flash on!  Apologies, but it does make us appreciate the great job the photographers usually do!

Obviously, huge thanks go to Tony Barnes for arranging the evening.

And many thanks go to all of the staff at the Orwell hotel for looking after us.

And we can't finish without saying that Mr DJ (thanks, by the way) really nailed it when he put Sweet Caroline on and saw the newly-formed dance troupe aka The Massive feat. Elliot Arbon own the floor under the lead of choreographer and general man-about-town Dave Witherspoon.  If you missed it, you certainly missed out! 

Full list of awards and presentations

U18s Players' Player:  Rory Porter
U18s Managers' Player:  Liam Crapnell

Reserves Players' Player:  Evan Bolt
Reserves Managers' Player:  Liam Crapnell

First Team Supporters' Player:  Jack Spurling
First Team Top Goal Scorer: Jack Ainsley
First Team Players' Player:  Josh Kerridge
First Team Managers' Player:  Josh Kerridge

Committee Cup Award: Alex Egelton
Clubman of the Year:  Shaun Ruddock

300thappearance for the club:  Dan Davis

Presentations for:

Craig Studd
Stuart Stevenson
Gary Hammond
Katie Bloomfield
Peter Trevivian
Graham Fisher

Flowers for:

Christine Florey
Lynn Hakes
Carole Robinson
Debbie Fisher
Kate Mitchell
Jo Watson
Winnie McClean
Julie Beecroft

Written by Carole Robinson