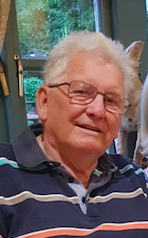 Felixstowe & Walton United FC to pay respects to local football figure ahead of FA Trophy tie.
A minutes silence will be held before Tomorrows FA Trophy fixture v Met Police FC for Harry Butcher who passed away last week.
The whole Butcher family have dedicated many years of service to local Junior and Senior football clubs, especially the Seasiders, and one of Harrys sons, Colin paid this tribute-

"Harry was a well known figure in local football and managed Felixstowe Spartans from 1974 till 1994, and there were not many local footballers that he did not have on the books during that period.
He also organised the Legendary Easter trips to St Job in Belgium to take part in their tournament and the memories and stories will live long in the minds of all those that went.
Harry was also a well known figure around town for all the work he did as a carpenter and for his general DIY skills and there is many a beach hut still standing that owes its survival to Harry.
He was a great family man with 4 children, grand children and great grand children and will be sorely missed by his wife of 63 years Marie and the rest of his family.
We who would like to thank Felixstowe & Walton United  for this very kind gesture and wish them all the very best for todays match and the future."
Seasiders Life-Vice President Tony Barnes, a former member of Felixstowe Spartans, said "Harry was a much loved figure around the Town and did so much for football in Felixstowe. We hope as many former players and friends can join us in a fitting tribute to Harry on Saturday."