SAT
12
DEC
2020
-
BASFORD
UNITED
(AWAY)
-
BUILDBASE
FA
TROPHY
SECOND
ROUND
PROPER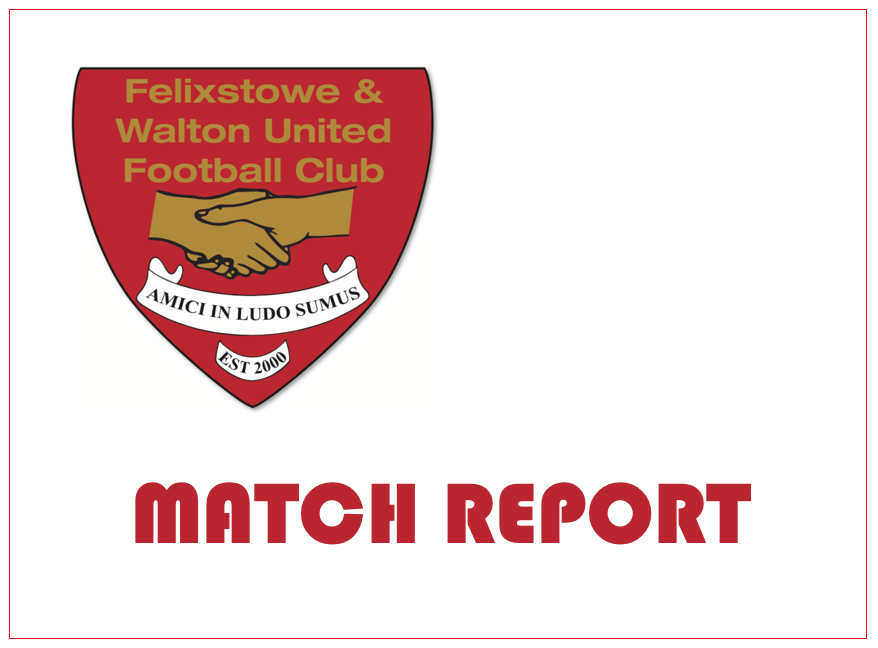 BASFORD UNITED  3 - 0  FELIXSTOWE & WALTON UTD 
SEASIDERS EXIT THE FA TROPHY WITH HEADS HELD HIGH
Felixstowe & Walton came back from Nottingham on Saturday with their heads held high following a disappointing 3-0 defeat at the hands of an impressive Basford United, a Step 3 side currently 2nd in The Northern Premier League. There's no point avoiding a very simple statement of fact:  the better side won.
Seasiders' Joint Chairman Andy Clarke said, "First and foremost we need to be happy and content that we've even got this far but it was just a step too far today. Basford are a very well-organised side who had two or three exceptional players, as good as you'll see at this level of football and we weren't quite at it today. (We were) dogged in defence, the same as at Leatherhead on Tuesday although our ball retention today was poor and our offensive play just didn't cause them any difficulties. We were easy to defend against today. But that's football. We regroup, go again and let's hope the league gets up and running and we can carry on from where we were before. The boys can take an awful lot of credit from the cup run."
That's not to say that we didn't have a few chances. There was a penalty appeal turned down in the 12th minute when Ollie Canfer appeared to have been pulled down in the box, but the referee was having none of it.  A Lamell Howell chance hit the crossbar around 15 minutes later but, in all honesty, The Seasiders didn't really manage enough solid chances in the early exchanges. The Lions also struck the post and had a penalty appeal turned down themselves.
It was a lively start for Felixstowe but the first real chance in the game came from Ryan Wilson for the home side following a free kick, which Man of the Match, keeper Callum Robinson, tipped over the bar. Just 60 seconds later, the home side had another chance to score when they failed to take advantage of a tempting ground level cross from the right. It soon became apparent that they were a decent side, capable of passing the ball around with confidence. Then came the penalty appeal from Ollie Canfer mentioned earlier.
Callum Robinson was called into action again on the quarter hour mark, tipping a good effort from Kane Richards out for a corner, and on 30 minutes a mix up between Jamal Wiggins and Callum Robinson caused one or two hearts to flutter for a second or two, but Basford were unable to take advantage. However, Basford took the lead on 31 minutes with a fine header from Stefan Galinski, latching on to the ball from a corner from the left.
There was a break in play just a couple of minutes after the home side had taken the lead as a result of a clash of heads between Callum Robinson and Marcus Marshall, holding play up for a while. Fortunately play resumed with no apparent problems. As we approached half time, it seemed that we were having to work hard to penetrate and when we lost the ball, Basford were quite capable of holding onto possession with growing confidence. The sides went into the break with the home side having a slender lead. Could the Seasiders regroup during the break and perhaps offer a little more in the second period?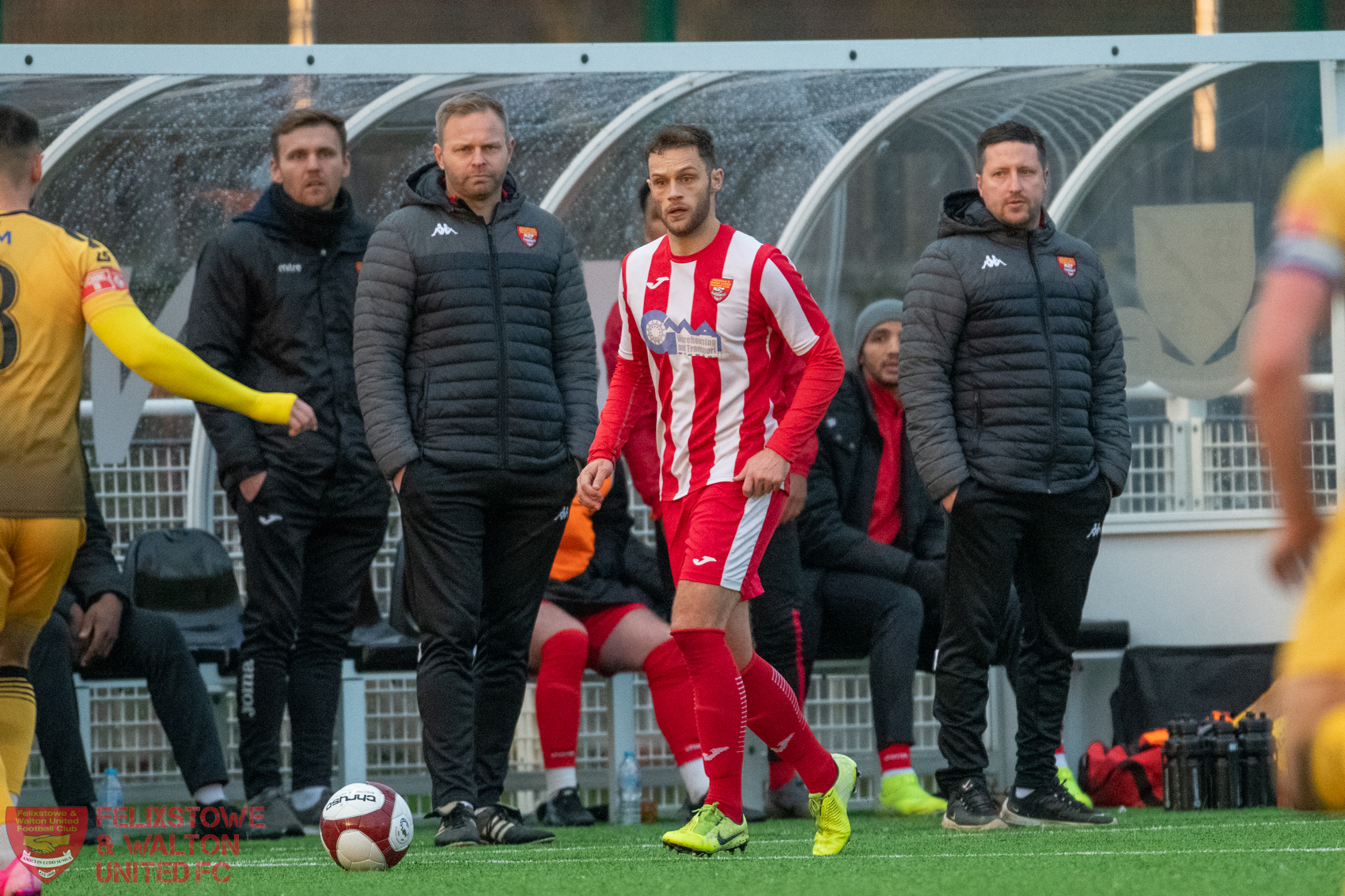 There were no changes during the break but what was clear in the early exchanges of the second half was that the home side would apply pressure, closing us, the visitors, down at every opportunity. Ollie Canfer took a knock as the game approached the hour mark and was forced to leave the field of play, replaced by Miles Powell up front.
Basford's Marcus Marshall fired a few inches over the bar on 61 minutes and came even closer just two minutes later with an effort going just wide. At this stage Basford, it has to be admitted, were imposing themselves and despite excellent wins against Great Wakering, Westfield, The Met Police and Leatherhead in the earlier rounds, this was a step up and beginning to look like a step too far for Stuart Boardley and Andy Crump's team.
With around 25 minutes remaining, George Clarke was through with just the keeper to beat but sadly it wasn't to be. With chances few and far between, that miss was going to prove to be crucial. Jamal Wiggins' name went into the referee's book on 66 minutes for what seemed to be a rather innocuous foul. Shortly after that Henry Barley replaced George Clarke but within a minute or two Basford hit the post. They didn't have to wait long before extending their lead, however, when Marcus Marshall converted from the spot, following what appeared to be something of a nudge in the back from one of our defenders.
On 76 minutes Callum Chettle settled the day's affair with an impressive effort from the edge of the box, wrapping up our memorable cup run in The Buildbase FA Trophy in 2020. Lamell Howell was replaced by Rhys Henry with 10 minutes left on the clock.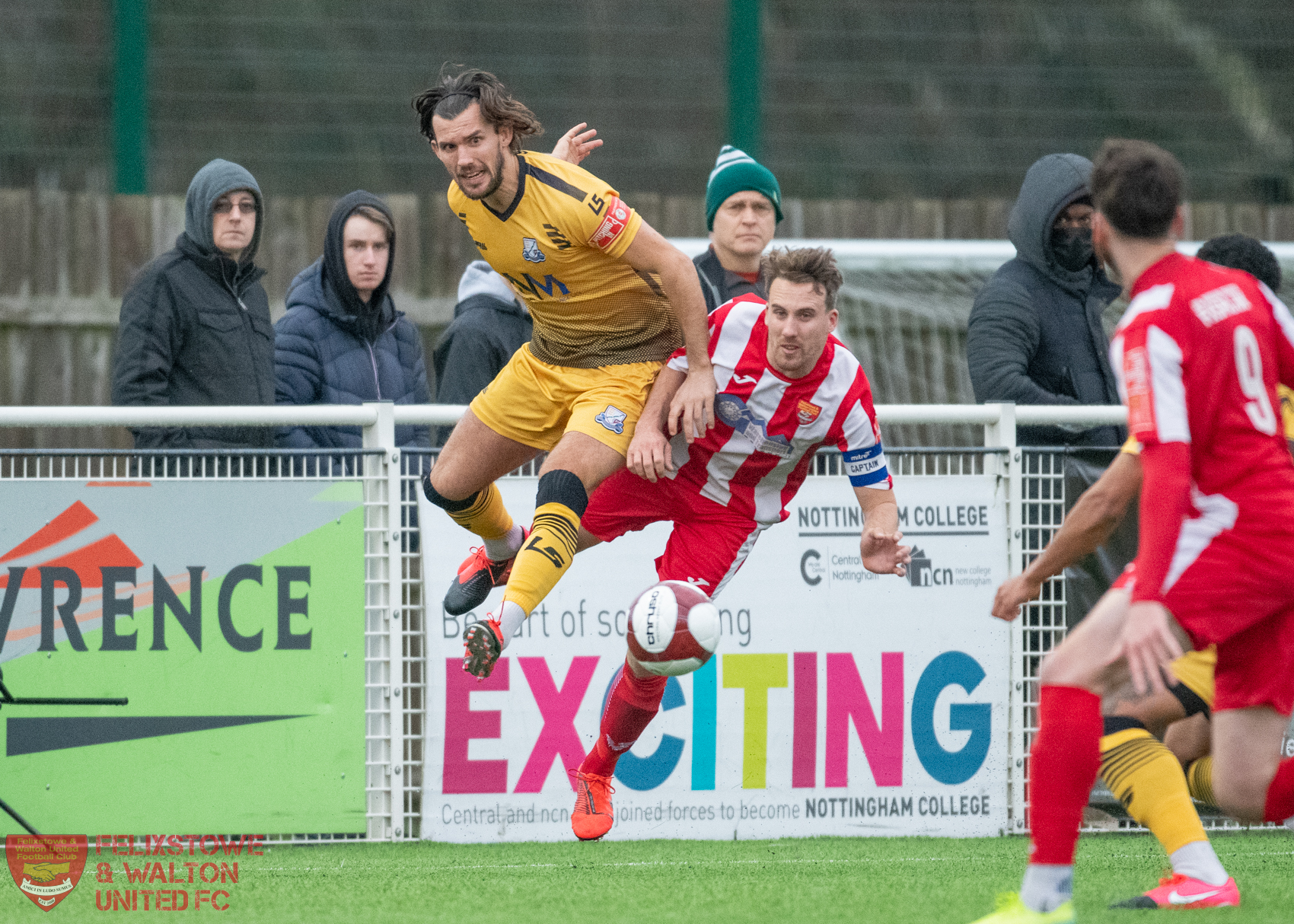 Speaking to Assistant Manager Andy Crump after the game, we heard the same phrase Andy Clarke had used earlier:  "This was a step too far today. We said to the boys we can't approach this and come out with regrets and feel like we haven't given a good account of ourselves. At times, perhaps we didn't, but we need to focus on the run and what the boys have achieved in getting to this stage. Basford are a good side. It's clear why they are top of their league and they were very good on the day. We didn't meet their standard. We had a chance at 1-0, we rode our luck quite a bit but the most important thing is to remember that the boys have done incredibly well to have got this far in the competition.  It sets us up nicely for the league now."
Match report by Barry Grossmith
Photos by Thomas Bradford
Team Line-Ups Here
Photo Gallery here