F&W
U11
Whites
notch
up
another
win
The Under 11 Seasiders were at home for the second week running in the league, and were hoping to extend their unbeaten start to the season.
We started the match brightly and looked to be the more likely team in the early encounters without really getting many clear opportunities in front of goal. Then with about 10 minutes played, Ross picked up the ball and darted into the box and finished smartly into the bottom right hand side of the goal, giving the keeper no chance.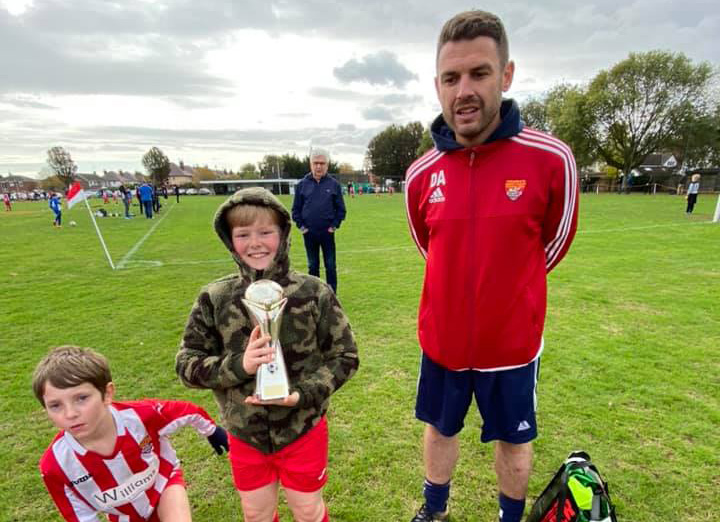 The rest of the half played out in much similar fashion. The visitors created very few clear chances on goal but the couple of shots they had went straight at Ishan, who to his credit gathered up with ease with some solid goalkeeping. 1-0 to the Seasiders at the break.
The second half we started brightly again and some good passages of play resulted in several corners as we pressed to score. It was from one of these corners that Ned picked up the ball in the middle of the box and finished nicely to make it 2-0.
The visitors to their credit battled well all game and defended in numbers especially in the middle of the park. About halfway through the second half we started to find a lot more opportunities to stretch the opposition, with a few of the lads finding joy, especially down the left wing. It was actually from a Ransomes corner that we picked up the ball from the edge of our box after some good defending, Ned was on the shoulder of the last defender and one good pass resulted in Ned clean through running from halfway in his own half, showing the defender a clean pair of heels before slotting home nicely with a composed finish.
We continued to press to and the game flowed in the same pattern. From what must have been our 10th corner of the game, the corner was initially blocked and then we played back into the middle where Henry picked up the ball near the penalty spot, and on the second attempt Henry beat his man with a nice piece of skill to create the space he needed to finish nicely to put the Seasiders 4-0 up.
The match on the whole was very well contested by both teams, with the defending from everyone in the Seasiders team resulting in a well-deserved clean sheet. Player of the match today was Ned who rounded off a good display with two very well-taken goals.
Well done to the players for their efforts today and the parents for their support as always. Let's keep up the good work.
Final score: F&W U11 Whites 4-0 Ransomes
Goals: Ross x 1, Ned x 2, Henry x 1
MOTM: Ned