Tough
away
day
for
F&W
U11
Reds
The reds kicked off their season with an away defeat to Bury.
With all pre season friendlies won and a team that have worked hard in training we were under no illusion that this match was going to be nothing but challenging and hard work. With the weather against us, Jamie flying solo and Sampson running the line we walked away with a defeat but a team of lads who showed nothing but passion and dedication right up to the final whistle. We welcomed Ethan Worne into the Reds this week and his speed and commitment was a pleasure to watch.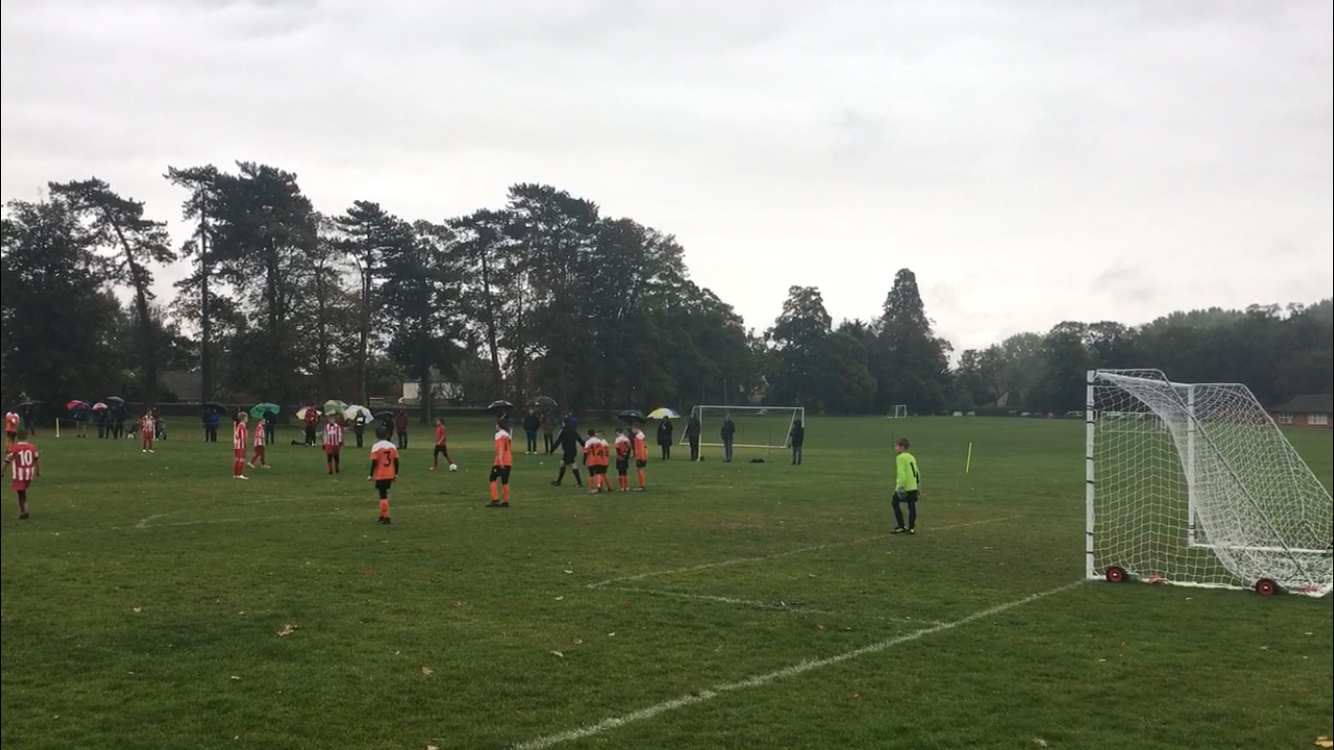 The home team were strong from the start with scoring 2 early goals with some quick footed football and some skilled strikers. However we were able to show them that we were a team that didn't give up with some early corners by Dawson and Arthur, their defense were strong and soon the ball was back in their half. Jake taking on some strong players kept the deference strong but their quick passing and moving was hard for us to gain control and possession. A skilled number 12 was closed down on several occasions by the Ollie P, Arthur and Monty.
Finn was kept busy and made some confident saves, judging well when to move off his line and clearly his efforts were noted by the spectators as the claps despite the rain were loud and pleasing to hear.
Our defense were kept busy and we started to use the width of the pitch, however the home team were quick and they hardly let us pass and move. Daniel and Luca were ready to receive but their mid field were powerful giving us little chances.
We were soon facing 3 - 0 despite Finn and Monty great team effort that deflected a goal only for a Bury player on the wing to be there who gently tapped it in.
We kept our heads raised and both Ollie and Monty took the following goal kicks as Finn really hard been worked hard. Dawson had a magnificent run down the wing only to be taken out by a clean tackle just outside the penalty box. we were unlucky with Ethan's corner that was followed with a brilliant shot by Monty but unfortunately went straight into the keepers hands. We were then hit with 5 quick shots on goal all which were saved by Finn.
We went into half time 3 - 0 down.
We kicked off and saw Dawson take a strong throw in, 2 saves by Finn, Luca and Daniel trying hard to hold possession in the middle. Noel, Ollie and Jake communicating well in holding the defense lead to Dawson having a shot, followed by Arthur having a opportunity. We were unlucky to not have started the second half with an early goal. An cheeky goal to the right side made us 4 - 0.
We had another opportunity by mid fielders Luca and Daniel holding the ball to enable Arthur to take a shot, however despite their goalie having a quiet game he was alert came out and kick the ball out of play.
The last 15 minutes saw another 4 goals, however we lost count of the goals that were saved by Finn. Who rightly secured Man of the match after the opposition linesman commented on his positive attitude and sheer determination. We welcome Josh and Vismay into their first League game as well as Ethan who brought determination to the wings.
Hard match for the boys in cold and wet conditions. Good sportsmanship by all. Moving forward the hard work will continue and looking forward to next week.
MOTM: Finn