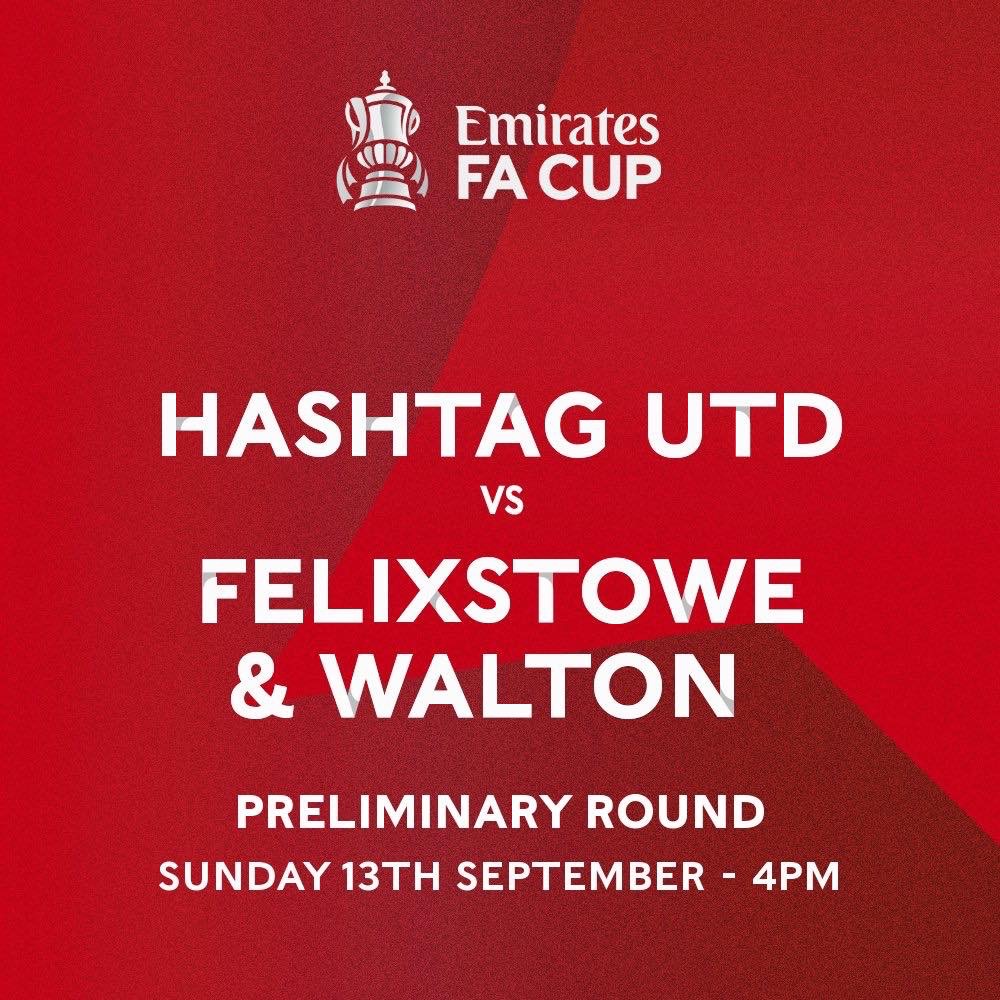 Cup Draws announced for Seasiders
Several Cup draws have been made featuring the senior sides and you can find all the details below...
Emirates FA Cup- We will travel to Hashtag United this SUNDAY at 4pm in the Preliminary Round. Prize money of £1.444 and a place in the First Qualifying round on Sept 22nd awaits the winners. Any supporters wishing to travel can buy advance match tickets here- https://hashtag-utd.myshopify.com/products/fa-cup-match-ticket-hashtag-united-fc-vs-felixstowe-walton-united-fc-sunday-13th-september-2020
FA Trophy- The Seasiders host league rivals Great Wakering Rovers in First Round Qualifying on Saturday 26th September. Prize money of £1500 is awarded to the winners who will face Westfield at home on Saturday 17th October.
FA Youth Cup- The Young Seasiders welcome Wroxham to the Goldstar Ground on Thursday 24th September in First Round Qualifying.
Turners Hyundai Suffolk Premier Cup- The First Team make the short trip to Brantham Athletic as the Second Round gets underway on Tuesday 6th October. 
CNet Training Suffolk Senior Cup- A home draw for the Reserves who will welcome Lakenheath from the Thurlow Nunn First Division to the Goldstar Ground on Saturday October 31st in the Second Round.
Blue Square Solutions Suffolk Boys U18's Midweek Cup- In the First Round, our U18's will host Coplestonians on Thursday 1st October.
The Club also have commitments to host the outstanding cup competitions from last season including the SIL Cup finals and Suffolk Premier Cup Semi-Finals. Details as follows-
Turners Hyundai Suffolk Premier Cup Semi Final- Bury Town v Lowestoft Town on Tuesday 15th September at 7.45pm
McDonalds Suffolk Primary Cup Semi Final- Ipswich Exiles v Melton United on Thursday 17th September at 7.45pm
Suffolk & Ipswich League Divisional Cup Final- Occold v Walsham-le-Willows 'A' on Wednesday 7th October at 7.15pm
Travel Plus Tours Cup Final- Old Newton United Reserves v Coplestonians Reserves on Wednesday 14th October at 7.15pm
Morrison Freight Cup Final- Crane Sports v Henley Athletic on Wednesday 21st October at 7.15pm