Bar
to
reopen
from
Saturday
4th
July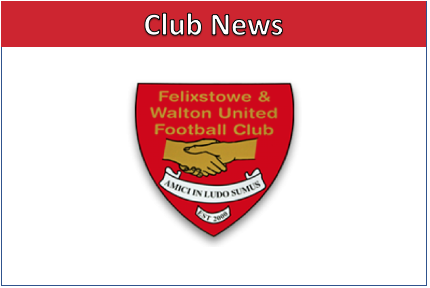 Outside bar to re-open from Saturday 4th July- Covid risk assessment completed  
Following the announcement that pubs and other venues in the hospitality sector can re-open from Saturday 4th July if Covid-Secure, the football club is pleased to reveal details of the measures we are putting in place for the safe operation of the site.
A full covid risk assessment has been carried out and this is available to view below.
Pre-booking will be required for each visit and bookings are now live for each day via the Eventbrite ticketing platform .
To book simply visit Eventbrite Events here-
Saturday 4th July- Midday-8pm
Sunday 5th July- Midday-8pm
Opening times will initially be limited to Friday evenings (5pm-9pm), Saturday (Midday-8pm) and Sunday (Midday-8pm). 
There will be capacity of 65 for the first couple of weeks, with a review undertaken after this period to ascertain if the capacity can be increased, or should be decreased, based on how the measures are working. If you make a booking, but subsequently cannot attend, please contact the club so we can cancel your booking to allow for someone else to take your place.
IMPORTANT NOTE- There are additional costs to opening again at this time. For this reason, we can only open when it is viable to do so. If there is a lack of bookings for a particular day, we reserve the right to cancel the opening on that day.
A one way system will be in operation with entry via the accessible gate adjacent to the turnstiles, and exit via the walkway at the Dellwood end. Seating will be placed in the outside events area and it is important these tables and chairs are not moved around, in order to maintain social distancing. 
The clubhouse lobby toilets will remain closed, with the matchday toilets in operation and a one in/one out system being used.
The kitchen will open for a limited period each day, with service from the outside hatch.
Bar service will be inside, with a one way system installed, with entry through one set of doors and exit via a separate set of doors. A system of barriers, signage and floor markings will be in use throughout the site to manage queues and maintain safe routes and social distancing. Contactless payments will be encouraged. We are aiming to launch a bar ordering APP in time for our re-opening. Full details will be released shortly.
Plastic glasses and disposable packaging will be used to limit staff contact with used glassware. 
Hand sanitiser stations have been installed at every entry and exit point, and staff will wear appropriate PPE. 
Important Note- Children are the responsibility of the parents or guardian and MUST be supervised at all times. You must ensure young guests adhere to the rules and social distancing measures that are in place.
We urge all visitors to adhere to the rules and measures we have put in place, in order to provide a covid-secure venue for the safety of us all. Failure to adhere to the rules may lead to visitors being asked to leave the site, and/or future bookings being denied.
Chris Daynes
Chief Operating Officer