NOTICE
OF
2020
AGM
OF
FELIXSTOWE
&
WALTON
UNITED
FC
LTD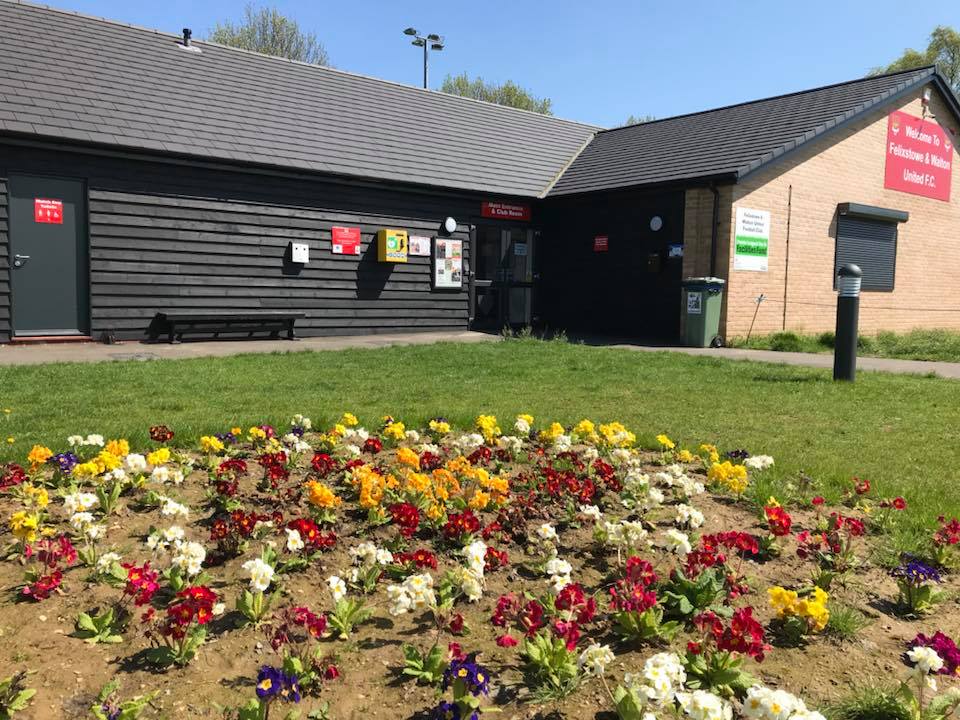 Notice to all Felixstowe & Walton United FC Committee and Club Members.
The AGM of Felixstowe Walton United FC shall take place on the concourse outside the clubhouse at 12:00 hrs Saturday 11th July 
However, please note below the following caveat….
Government guidelines will include clubs monitoring the number of attendees at gatherings AND seating must me at least 1+ metres to allow for social distancing. This in mind those wishing to attend the AGM MUST, REPEAT MUST, book a place with our club secretary Mike Titchener (This email address is being protected from spambots. You need JavaScript enabled to view it. or mobile 07513 376708). This is extremely important. Committee members, club president and life vice presidents will be given priority so out of courtesy to our club secretary may I respectfully suggest you  inform Mike of your intentions so that if you do NOT wish to attend Mike can then offer your seat to a club member, supporter, sponsor, donator etc. who may wish to attend. NOTE HOWEVER, IF YOU DO NOT BOOK YOU WILL NOT GAIN ENTRY. Attendees will only enter via the turnstile gate where a club member will be checking in names. If you are not on the list you will not be able to attend (this, I'm afraid, is a Government guide line).
Anybody that wishes to raise any points at the AGM must notify the club Secretary not later than 4th July 2020 otherwise it cannot be raised at the meeting.
Agenda below…
Chairman's welcome and opening remarks
Minutes of the 29th June 2019 AGM
Matters arising from those minutes
Adoption of Club Secretary's' report
Adoption of club treasurer's report
Amendment to clubs Constitution (to be agreed by the committee in advance of the AGM)
Vote of thanks to the retiring officers
Adoption of officers and committee 2020/2021 season
Registration
The AGM has been added as an event on the Eventbrite ticket platform. Members wishing to attend can use the below link, register for a place (free) and receive an email confirmation of their entry ticket. There are only 65 places available.
Note: Current members will be those who paid a subscription last season, notwithstanding that due membership fees have passed the expiry date. If members renew their subscription within a given time (e.g. up to 6 weeks) after the expiry date then membership is continuous and they meet the criteria for voting purposes. 
Membership renewal will be just £1. This is in the process of being set up and therefore someone will be on the entry gate at the AGM collecting the £1 subscription.  
Book here: https://www.eventbrite.co.uk/e/felixstowe-walton-united-fc-agm-tickets-110666209612
Minutes of 2019 AGM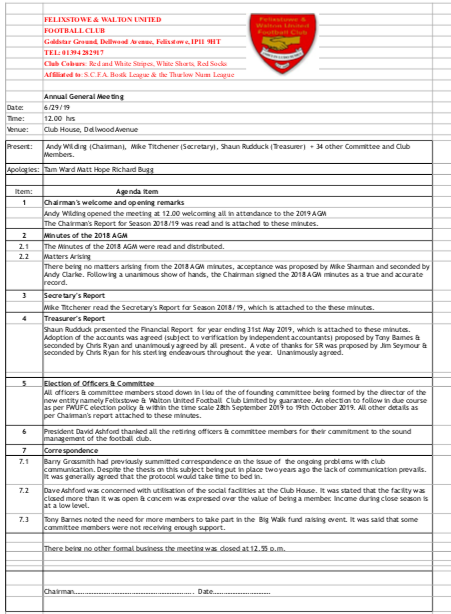 Constitutional Amendments 2020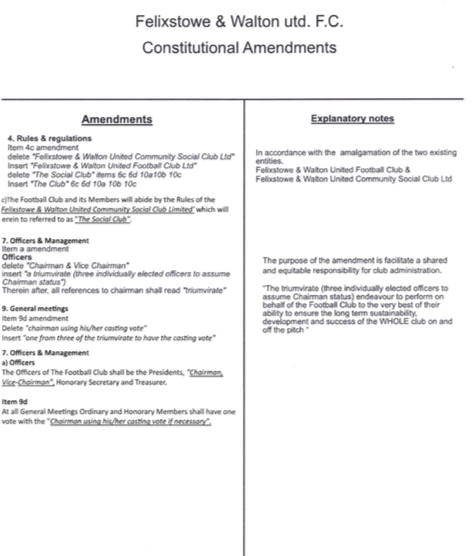 I look forward to seeing as many of you as possible
Andy Wilding
Club Chairman