Statement
from
Club
Chairman
Andy
Wilding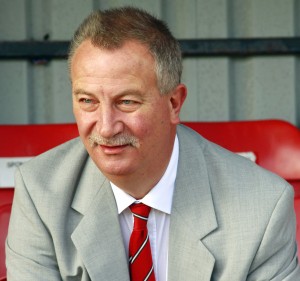 Andy Wilding to step down as Club Chairman at the end of May 2020.
It can be said of latter years that Felixstowe & Walton United Football Club has become a lifeblood of the local community. When we consider where this club was a decade ago compared to where it is now, it is clear that it has engaged so much interest from football loving enthusiasts. To say the local community loves their local football club is an understatement.
I took on the Chairman's role in the autumn of 2011 and over the last 8/9 years I have been involved with, and overseen, an incredible transformation from a lowly, humble step 5 football club to one of the most iconic step 4 football clubs in the non-league pyramid. What has been achieved has been quite remarkable and I am really proud to have been part of this incredible transformation.
Having reached this current point, it does not mean we have to stop and stand still. This club has the wherewithal to move forward and I honestly believe step three football is not beyond our capabilities. Not today, not tomorrow or next year, but some time ahead and with the right drive and ambition, this club will get there. I am terribly ambitious and would love to be able to continue in that vein but I have come to a point where I need some more time for myself and in the best wishes of this football club alone, I feel it the right time now to step aside from the Chairman's role and let another person take the helm and offer new, fresh ideas that will keep the momentum going.
 I will step aside on 31st May 2020, being the end of our financial year, remaining as club chairman until that time. By stepping aside, it means I am NOT walking away from the club, far from it. If agreed by all, I will remain a company director and sit on the Executive committee and continue my annual investment in the football club.  I have had a fantastic 9 years at helm and the support I have had from my committee folk has been truly immense. Thank you all from the bottom of my heart. 
Best wishes
Andy Wilding
Felixstowe & Walton United FC Club Chairman