Seasiders
unveil
plans
for
Non
League
Day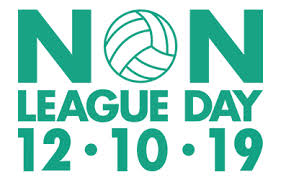 The Seasiders, previously without a scheduled fixture this Saturday, will now host Coggeshall Town after it was agreed to bring the final Velocity Trophy group game forward from Tuesday 5th November to fill the blank weekend for both sides. The fixture was due to be played at West Street, but with Coggeshall United, who groundshare with Town, at home on Saturday in the FA Vase it was agreed to move the game to the Goldstar Ground.....and it's Non League Day!
Non League Day is an annual event taking place on a weekend where this is an International break with the aim of encouraging football supporters to experience the delights of the Non League game.
The Seasiders will be celebrating the day by offering "Pay What You Want' admission to the match. This has proven to be a popular promotion in recent seasons and we hope it will prove likewise on this occasion, especially as it co-incides with welcoming our new management team of Stuart Boardley and Andy Crump back to the Seaside for their first home game.
A bucket collection will be held for Prostate Cancer Uk, the official charity partner of Non League Day.
Turnstiles open at the usual time of 1pm, and as an incentive to arrive early we will be offering a 'Happy Hour' in the bar from 1pm-2pm! Carlsberg and East Coast IPA will be on offer for just £2.50 a pint, with Guniness, Seasiders Pilsner and Aspalls Harry Sparrow on offer at £3 a pint.
The Club Shop will also be open from 2.30pm with a host of new Seasiders merchandise on offer to show your colours!
We do hope you can join us this Saturday.....and bring a friend with you to see what it is all about.