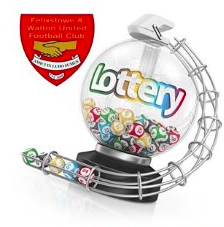 Seasiders Lottery
Support the Seasiders during these difficult times by taking part in the Seasiders Lottery.
The weekly draw will take place every Sunday at 6pm.
Enter for just £2 a week (minimum 5 weeks)
Simply choose 4 numbers from 1-20. If you match all 4 numbers drawn you will win the jackpot (or an equal share if more than one winner).
If nobody matches all 4 numbers the jackpot will rollover to the following week.
The weekly jackpot will be 50% of all the entries received.
The draw takes place every Sunday at 6pm and will be broadcast live on the clubs Facebook page.
To enter - Siimply click on the Paypal 'donate' button at the bottom or right hand side of this page and choose the amount you wish to pay. Either £10 for 5 weeks entry or multiples of £2 thereafter eg: £20 for 10 weeks entry. Before you confirm the Paypal payment you will see a space to 'leave note'. In this space choose your 4 numbers from 1-20.
Alternatively you can send your entry fee using BACS to Felixstowe & Walton United FC, Sort Code: 60-08-17, Account Number: 39609154. If paying by BACS, payment must be received the Saturday evening before the Sunday draw. If received after, you will be entered into the next available draw.
You can also choose your numbers by contacting Chris Daynes with your numbers, contact details and payment method by text 07415886803 or email This email address is being protected from spambots. You need JavaScript enabled to view it. 
A list of winners will be available every Sunday evening on the website and social media channels. All winners will be contacted asap to arrange payment of prize money.
When the clubhouse re-opens later this year, you will also be able to enter the lottery on a weekly basis using cash.
RESULTS- SUNDAY 31st MAY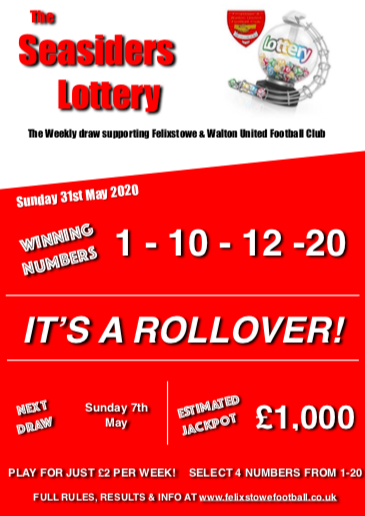 Previous Results-
Sunday 5th April- 2, 5, 11, 18
Sunday 12th April- 5, 8, 13, 19
Sunday 19th April- 5, 8, 12, 15
Sunday 26th April- 3, 10, 11, 18
Sunday 3rd May- 9, 13, 14, 15
Sunday 10th May- 2, 6, 7, 11
Sunday 17th May- 3, 4, 6, 16
Sunday 24th May- 4, 10, 19, 20
Sunday 31st May- 1, 10, 12, 20