Season
Ticket
and
Match
Day
Prices
2018/19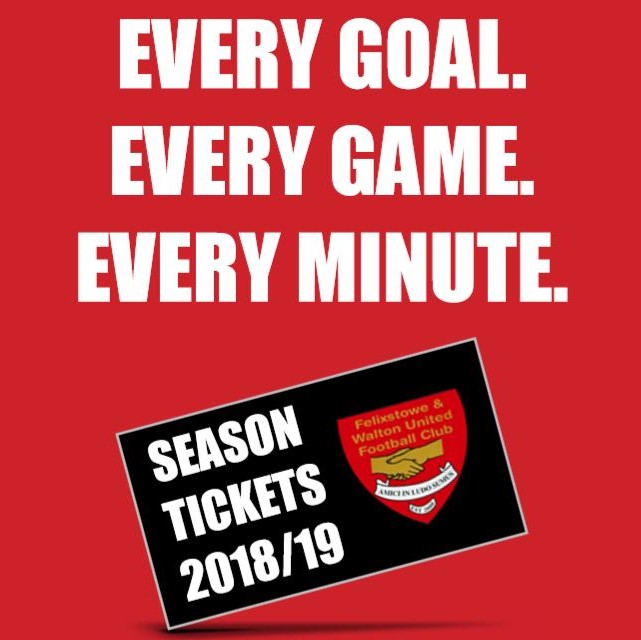 Matchday Admission Prices and revised Season Ticket details for 2018/19.
After listening to supporter feedback following the announcement of matchday admission and season ticket prices, some changes have taken place to the season ticket pricing structure. These changes include a two tier option (particularly benefiting those who follow the First Team away from home and are therefore unlikely to watch many Reserve games) and we are now also including complimentary annual membership of the Social Club within the cost of the season ticket.
Full details below.
Matchday
Admission
First
Team
Adults £8
Concessions (65 & Over) £5 
Under 16's (accompanied) FREE.
The increase following promotion is not only to meet the minimum admission prices of the Bostik League, but also to take into account the football club is now VAT registered and therefore VAT is payable on gate receipts. It was decided to continue with Free admission to all Under 16's for the 7th successive season, but from 2018/19 Under 16's must be accompanied by an adult in order to receive free entry. Unaccompanied Under 16's will be required pay the Concession price.
Reserve
Team
Adults £5
Concessions (65 & Over) £3
Under 16's (accompanied) FREE
Season
Tickets
It was has now been agreed to offer two season ticket options (Red & White). RED Season tickets will cover First Team only and WHITE will cover both the First Team in the Bostik League North AND the Reserve Team who will be playing in the Thurlow Nunn First Division.
RED
(First
Team
Only)
ADULTS £120
CONCESSIONS (65 & Over) £75
WHITE
(First
Team
&
Reserve
Team)
ADULTS £150
CONCESSIONS (65 & Over) £90
This is a new and exciting chapter for the football club and the club recognises the huge part supporters played in the successes of 2017/18 resulting in promotion for both Senior sides, particularly for the 120 supporters who committed to the club by buying a season ticket last summer. 
Not only do the First team have a mouthwatering debut season at Step 4 to look forward to, but the Reserves also make the leap into the Thurlow Nunn First Division playing against the first teams of clubs such as Ipswich Wanderers, Hadleigh, Diss and Wivenhoe. 
The WHITE season ticket gives supporters the opportunity to back both sides for a one off price and offers excellent value for money compared to standard matchday admission prices and the RED season ticket option rewards supporters with the equivalent saving of 4 home First Team matches...as well as the additional benefits listed below.
The First Team will play 19 home league games and it is expected the Reserves will also have 19 home fixtures. This works out at just £3.95 per match for an adult and £2.37 for a concession if you choose the WHITE option. 
As an added incentive, all those who purchase a season ticket before the 21st July will be given FREE entry to ALL pre-season home matches and will once again receive complimentary admission to all Ipswich Town Ladies home games at the Goldstar Ground. 
NEW FOR 2018/19 Season Ticket holders will also benefit from a 10% discount in the Club Shop by showing their card.
Season tickets will also include complimentary membership of the Felixstowe & Walton Utd Community Social Club. 
Other special offers will be made available during the campaign.
Season Tickets go on sale from Tuesday 15th May.
Forms can be collected from the clubhouse during opening hours, emailed on request by contacting This email address is being protected from spambots. You need JavaScript enabled to view it. or downloading the form here
The clubhouse will be open this Saturday 19th May from 3pm-8pm when Stuart Daynes will be in attendance to hand out and receive application forms.
Be the 12th Man once again in 2018/19!